container
2nd January 1970
Page 19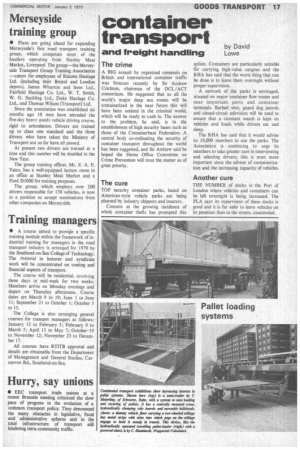 Page 19, 2nd January 1970 —
container
Close
transport by David and freight handling Lowe
The crime
A BIG assault by organized criminals on British and international container traffic was forecast recently by Sir Andrew Crichton, chairman of the OCL /ACT consortium. He suggested that as all the world's major deep sea routes will be containerized in the near future this will have been noticed in the criminal • world, which will be ready to cash in. The answer to the problem, he said, is in the establishment of high security bases such as those of the Containerbase Federation. A central body co-ordinating the security of container transport throughout the world has been suggested, and Sir Andrew said he hoped the Home Office Committee on Crime Prevention will treat the matter as of great priority.
The cure
TOP security container parks, based on American-style vehicle parks are being planned by industry shippers and insurers.
Concern at the growing incidence of whole container thefts has prompted this action. Containers are particularly suitable for carrying high-value cargoes and the RHA has said that the worst thing that can be done is to leave them overnight. without proper supervision.
A network of the parks is envisaged, situated on major container flow routes and near important ports and container terminals. Barbed wire, guard dog patrols and closed-circuit television will be used to ensure that a constant watch is kept on vehicles and loads while drivers eat and sleep.
The RHA has said that it would advise its 18,000 members to use the parks. The Association is continuing to urge its members to take greater care in interviewing and selecting drivers; this is even more important since the advent of containerization and the increasing capacity of vehicles.
Another cure
THE NUMBER of docks in the Port of London where vehicles and containers can be left overnight is being increased. The PLA says its supervision of these docks is good and it is far safer to leave vehicles on its premises than in the streets, unattended.