Volvo's chief engineer to address IRTE
2nd January 1970
Page 17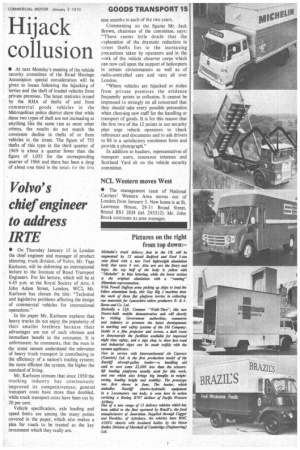 Page 17, 2nd January 1970 —
Volvo's chief engineer to address IRTE
Close
• On Thursday January 15 in London the chief engineer and manager of product planning, truck division. of Volvo. Mr. Tage Karlsson, will be delivering an international lecture to the Institute of Road Transport Engineers. For his lecture, which will be at 6.45 p.m. at the Royal Society of Arts. 6 John Adam Street, London, WC2, Mr. Karlsson has chosen the title: "Technical and legislative problems affecting the design of commercial vehicles for international operations."
In his paper Mr. Karlsson explains that heavy trucks do not enjoy the popularity of their smaller brethren because their advantages are not of such obvious and immediate benefit to the consumer. It is unfortunate, he comments, that the man in the street cannot understand the relevance of heavy truck transport in contributing to the efficiency of a nation's trading system; the more efficient the system, the higher the standard of living.
Mr. Karlsson stresses that since 1950 the trucking industry has continuously improved its competitiveness; general transport costs have more than doubled, while truck transport costs have been cut by 20 per cent.
Vehicle specification, axle loading and speed limits are among the many points covered in the paper, which also makes a plea for roads to be treated as the key investment which they really are.