Pictures on the right from top down:—
2nd January 1970
Page 17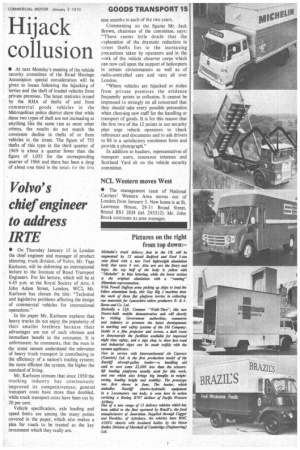 Page 17, 2nd January 1970 —
Pictures on the right from top down:—
Close
Michelin's truck delivery fleet in the UK will be augmented by 22 mixed Bedford and Ford 5-ton vans fisted with a new York lightweight aluminium body that saves 9 cwt. Also new are the livery and logo; the top haY of the body is yellow with "Michelin" in blue lettering, while the lower section is the original aluminium with a "running" Bibendum representation.
With Powell Duffryn arms picking up skips to load the Edbro aluminium body, this Guy Big I machine does the work of three fiat platform lorries in collecting raw materials for Lancashire tallow producers R. & A. Burns and Co. Ltd.
Basically a 22ft. Commer "Walk-T7tru", this new Rootes-built mobile demonstration unit will shortly be visiting Government authorities, commerce and industry to promote the latest developments in marking and safely systems of the 3M Company. Inside is a film projector and screen, a dark room to demonstrate the facilities available for unproved Night time safety, and a sign shop to show how road and industrial signs can be made swOly with the vacuum applicator.
Now in service with Intercontinental Air Caterers (Gatwick) Ltd. is the first production model of the Rateliff aircraft-galley loader—a handling aid said to cost some £2,000 less than the scissorslift loading platforms usually used for this work, and one which also brings big benefits in weightsaving, loading height and stability. The prototype was first shown in June. The loader, which embodies Ratcliff electro-hydraulic equipment In a Locomotors van body, is seen here in action servicing a Boeing B707 airliner of Pa4fie Western Airlines.
One of a new range of 15 delivery vehicles which has been added to the fleet operated by Brazil's, the food manufacturers of Amersham. Supplied through Cogger and Hawkins. of Aylesbury, the vehicles have BMC 420EG chassis with insulated bodies by the Motor Bodies Division of Marshall of Cambridge (Engineering) Ltd.