Hij ack
2nd January 1970
Page 17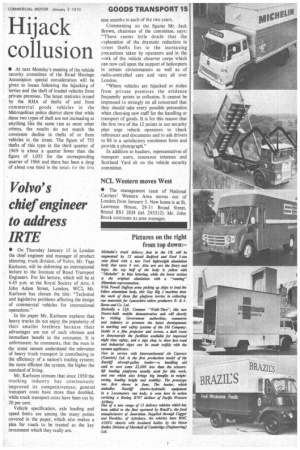 Page 17, 2nd January 1970 —
Hij ack
Close
collusion
• At next Monday's meeting of the vehicle security committee of the Road Haulage Association special consideration will be given to losses following the hijacking of lorries and the theft of loaded vehicles from private premises. The latest statistics issued by the RHA of thefts of and from commercial goods vehicles in the Metropolitan police district show that while these two types of theft are not increasing at anything like the same rate as most other crimes, the results do not match the consistent decline in thefts of or from vehicles in, the street. The figure of 755 thefts of this type in the third quarter of 1969 is about a quarter fewer than the figure of 1,033 for the corresponding quarter of 1966 and there has been a drop of about one third in the totals for the lirst
nine months in each of the two years.
Commenting on the figures Mr. Jack Brown, chairman of the committee, says: "There seems little doubt that the explanation of the dramatic reduction in street thefts lies in the increasing precautions taken by operators and in the work of the vehicle observer corps which can now call upon the support of helicopters in certain circumstances as well as of radio-controlled cars and vans all over London.
"Where vehicles are hijacked or stolen from private premises the evidence frequently points to collusion. It cannot be impressed to strongly on all concerned that they should take every possible precaution when choosing new staff for the handling or transport of goods. It is for this reason that the first two of the 12 points in our security plan urge vehicle operators to check references and documents and to ask drivers to fill in a satisfactory enrolment form and provide a photograph."
In addition to hauliers, representatives of transport users, insurance interests and Scotland Yard sit on the vehicle security committee.
NCL Western moves West
• The management team of National • Carriers' Western Area moves out of London from January 5. New home is at St. Lawrence House, 29-31 Broad Street, Bristol BSI 2EH (tel. 293312). Mr. John Brock continues as area manager.