Tachos as standard option
2nd January 1970
Page 16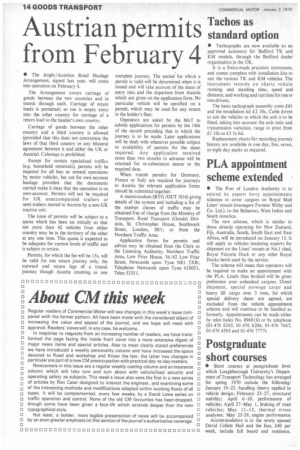 Page 16, 2nd January 1970 —
Tachos as standard option
Close
• Tachographs are now available as an approved accessory for Bedford TK and KM models, through the Bedford dealer organization in the UK.
It is a Swiss-made precision instrument, and comes complete with installation kits to suit the various TK and KM vehicles. The instrument records on charts vehicle running and standing time, speed and distance, and working and rest time for one or two drivers.
The basic tachograph assembly costs £45 and the installation kit £2 10s. Cable drives to suit the vehicles to which the unit is to be fitted, taking into account the axle ratio and transmission variation, range in price from £1 lOs to £3 5s 6d.
Replacement charts for recording journey history are available in one day, five, seven, or eight day packs as required.