PLA appointment scheme extended
2nd January 1970
Page 16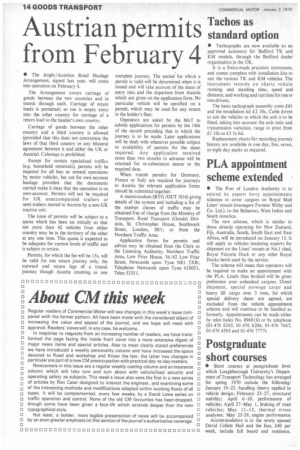 Page 16, 2nd January 1970 —
PLA appointment scheme extended
Close
• The Port of London Authority is to extend its export lorry appointments schemes to cover cargoes on Royal Mail Lines' vessels (managers Furness Withy and Co. Ltd.), to the Bahamas, West Indies and South America.
The new scheme, which is similar to those already operating for New Zealand, Fiji, Australia, South, South East and East• Africa, will be introduced on January 15. It will apply to vehicles tendering exports for shipment on the Lines' vessels at No.I shed, Royal Victoria Dock or any other Royal Docks berth used by the service.
The scheme will mean that operators will be required to make an appointment with the PLA. Loads thus booked will be given preference over unbooked cargoes. Direct shipment, special stowage cargo and heavy lift cargo over 5 tons, for which. special delivery dates are agreed, are excluded from the vehicle appointment scheme and will continue to be handled as formerly. Appointments can be made either by telex (telex No. 896816) or by telephone (01-476 6265, 01-476 6266, 01-476 7667, 01-476 4595 and 0 1-476 7777).