Austrian permits from February 4
2nd January 1970
Page 16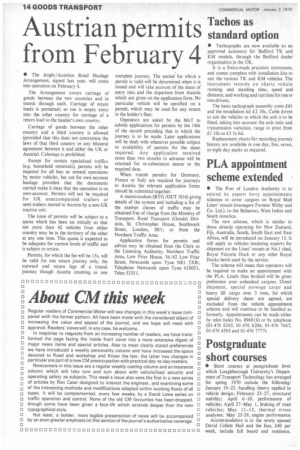 Page 16, 2nd January 1970 —
Austrian permits from February 4
Close
• The Anglo /Austrian Road Haulage Arrangement, signed last year, will come into operation on February 4.
The Arrangement covers carriage of goods between the two countries and in transit through each. Carriage of return loads is permitted; so too is empty entry into the other country for carriage of a return load to the haulier's own country.
Carriage of goods between the other country and a third country is allowed (provided that this does not contravene the laws of that third country or any bilateral agreement between it and either the UK or Austria). Cabotage is prohibited.
Except for certain specialized traffics (e.g. household removals), permits will be required for all hire or reward operations by motor vehicles, but not for own-account haulage provided that the documents carried make it clear that the operation is on own-account. Permits will not be required for UK unaccompanied trailers or semi-trailers moved in Austria by a non-UK tractive unit.
The issue of permits will be subject to a quota which has been set initially so that not more than 42 vehicles from either country may be in the territory of the other at any one time. This quota is expected to be adequate for current levels of traffic and is subject to review.
Permits, for which the fee will be 15s, will be valid for one return journey only, the outward and return legs of a transit journey though Austria counting as one
complete journey. The period for which a permit is valid will be determined when it is issued and will take account of the dates of entry into,and the departure from Austria which are given on the application form. No particular vehicle will be specified on a permit, which may be used for any return in the holder's fleet.
Operators are asked by the MoT to submit applications for permits by the 14th of the month preceding that in which the journey is to be made. Later applications will be dealt with whenever possible subject to availability of permits for the dates required. Any application received more than two months in advance will be returned for re-submission nearer to the required date.
When transit permits for Germany, France or Italy are required for journeys to Austria the relevant application forms should be submitted together.
A memorandum (RTG /OUT /014) giving details of the system and including a list of the exempt classes of traffic may be obtained free of charge from the Ministry of Transport, Road Transport (Goods) Division, St. Christopher House, Southwark Street, London, SE1; or from the Northern Traffic Area.
Application forms for permits and advice may be obtained from the Clerk to the Licensing Authority, Northern Traffic Area, Low Friar House, 36/42 Low Friar Street, Newcastle upon Tyne NE! 5XR; Telephone Newcastle upon Tyne 610031, Telex 53351.