About CM this week
2nd January 1970
Page 16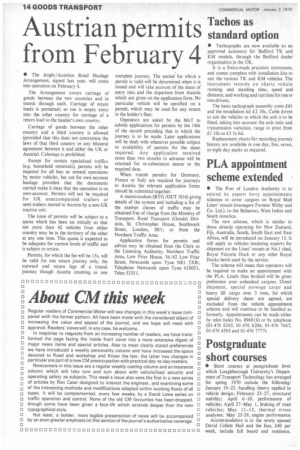 Page 16, 2nd January 1970 —
About CM this week
Close
Keywords :
Regular readers of Commercial Motor will see changes in this week's issue compared with the former pattern. All have been made with the considered object of increasing the value and appeal of the journal, and we hope will meet with approval. Readers' views will, in any case, be welcome.
In response to requests from an increasing number of readers, we have transformed the page facing the inside front cover into a more extensive digest of major news items and special articles. Also to meet clearly stated preferences we have introduced a weekly personality column and have increased the space devoted to Road and workshop and Know the law; the latter two changes in particular are part of a new CM preoccupation with practical day-to-day matters.
Newcomers in this issue are a regular weekly costing column and an insurance column which will take turn and turn about with vehicle/load security and operating safety as subjects. This week's issue also sees the first in a new series of articles by Ron Cater designed to interest the engineer, and examining some of the interesting methods and modifications adopted within working fleets of all types. It will be complemented, every few weeks, by a David Lowe series on traffic operation and control. None of the old CM favourites has been dropped, though some have been given a face-lift which extends deeper than the new typographical style.
Not least, a bolder, more legible presentation of news will be accompanied by an even greater emphasis on this section of the journal's authoritative coverage.