PTE goes to Commissioners
2nd January 1970
Page 15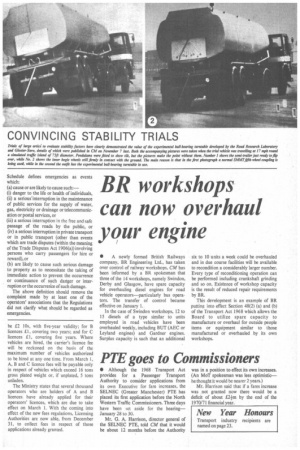 Page 15, 2nd January 1970 —
PTE goes to Commissioners
Close
Keywords :
Transport In The United Kingdom
,
Transport For Greater Manchester
,
Local Government In The United Kingdom
,
United Kingdom
,
Passenger Transport Executive
,
Greater Manchester
,
Transport Act
,
Buses
,
Double-decker Buses
,
Gm Standard Double-decker Bus
,
Business / Finance
• Although the 1968 Transport Act provides for a Passenger Transport Authority to consider applications from its own Executive for fare increases, the SELNEC (Greater Manchester) PTE has placed its first application before the North Western Traffic Commissioners. Three days have been set aside for the hearing— January 28 to 30.
Mr. G. A. Harrison, director general of the SELNEC PTE, told CM that it would be about 12 months before the Authority
was in a position to effect its own increases. (An MoT spokesman was less optimistic— bethought it would be nearer 2 years.) Mr. Harrison said that if a fares increase was not granted now there would be a deficit of about £2+m by the end of the 1970/71 financial year.