BR workshops
2nd January 1970
Page 15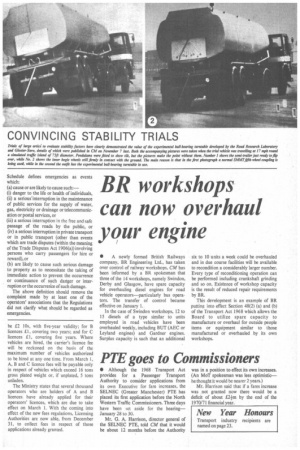 Page 15, 2nd January 1970 —
BR workshops
Close
can now overhaul your engine
• A newly formed British Railways company, BR Engineering Ltd., has taken over control of railway workshops. CM has been informed by a BR spokesman that three of the 14 workshops, namely Swindon, Derby and Glasgow, have spare capacity for overhauling diesel engines for road vehicle operators—particularly bus operators. The transfer of control became effective on January 1.
In the case of Swindon workshops, 12 to 15 diesels of a type similar to units employed in road vehicles have been overhauled weekly, including BUT (AEC or Leyland engines) and Gardner engines. Surplus capacity is such that an additional six to 10 units a week could be overhauled and in due course facilities will be available to recondition a considerably larger number. Every type of reconditioning operation can be performed including crankshaft grinding and so on. Existence of workshop capacity is the result of reduced repair requirements by BR.
This development is an example of BR putting into effect Section 48(2) (a) and (b) of the Transport Act 1968 which allows the Board to utilize spare capacity to manufacture or overhaul for outside people items or equipment similar to those manufactured or overhauled by its own workshops.