P.s.v. drivers' hours: the Ministry decides
2nd January 1970
Page 14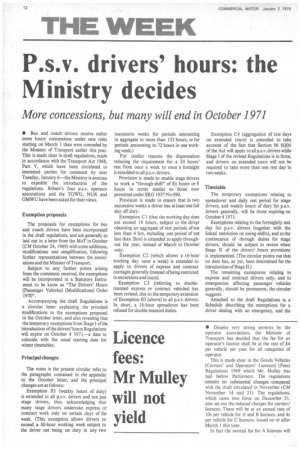 Page 15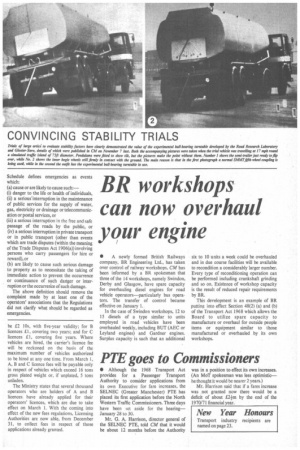 Page 14, 2nd January 1970 —
P.s.v. drivers' hours: the Ministry decides
Close
More concessions, but many will end in October 1971
• Bus and coach drivers receive rather more hours concessions under new rules starting on March 1 than were conceded by the Minister of Transport earlier this year. This is made clear in draft regulations, made in accordance with the Transport Act 1968, Part V, which have been circulated to interested parties for comment by next Tuesday, January 6—the Ministry is anxious to expedite the introduction of the regulations. Britain's four p.s.v. operator associations and the TGWU, NUR and GMWU have been asked for their views.
Exemption proposals
The proposals for exemptions for bus and coach drivers have been incorporated in the draft regulations, and are generally as laid out in a letter from the MoT in October (CM October 24, 1969) with some additions, modifications and simplification, following further representations between the associations and the Minister of Transport.
Subject to any further points arising from the comments received, the exemptions will be incorporated in a Statutory Instrument to be know as "The Drivers' Hours (Passenger Vehicles) (Modifications) Order 1970".
Accompanying the draft Regulations is a circular letter explaining the principal modifications to the exemptions proposed in the October letter, and also revealing that the temporary exemptions from Stage 1 of the introduction of the drivers' hours Regulations will expire on October 4 1971—a date to coincide with the usual starting date for winter timetables.
Principal changes
The notes in the present circular refer to the paragraphs contained in the appendix to the October letter, and the principal changes are as follows: Exemption B3 (weekly hours of duty) is extended to all p.s.v. drivers and not just stage drivers, thus acknowledging that many stage drivers undertake express or contract work only on certain days of the week, (This exemption allows drivers to exceed a 60-hour working week subject to the driver not being on duty in any two successive weeks for periods amounting in aggregate to more than 132 hours, or for periods amounting to 72 hours in one working week.) For similar reasons the dispensation reducing the requirement for a 24 hours' rest from once a week to once a fortnight is extended to all p.s.v. drivers.
Provision is made to enable stage drivers to work a "through-shift" of 8+ hours or 8 hours in terms similar to those now permitted under SRO 1937 No 490.
Provision is made to ensure that in two successive weeks a driver has at least one full day off duty.
Exemption Cl (that the working day does not exceed 14 hours, subject to the drivpr obtaining an aggregate of rest periods of not less than 4 hrs, including one period of not less than 2hrs) is extended to apply throughout the year, instead of March to October only.
Exemption C2 (which allows a 16-hour working day once a week) is extended to apply to drivers of express and contract carriages generally (instead of being restricted to excursions and tours).
Exemption C3 (referring to doublemanned express or contract vehicles) has been revised, due to the temporary extension of Exemption B3 (above) to all p.s.v. drivers. In short, a 16-hour spreadover has been refused for double-manned duties. Exemption C4 (aggregation of rest days on extended tours) is amended to take account of the fact that Section 96 (6Xb) of the Act will apply to all p.s.v. drivers while Stage I of the revised Regulations is in force, and drivers on extended tours will not be required to take more than one rest day in two weeks.
Timetable
The temporary exemptions relating to spitadover and daily rest period for stage drivers, and weekly hours of duty for p.s.v. drivers generally, will be those expiring on October 4 1971.
Exemptions relating to the fortnightly rest day for p.s.v. drivers (together with the linked restriction on swing-shifts), and to the continuance of through duties for stage drivers, should be subject to review when Stage II of the drivers' hours provisions is implemented. (The circular points out that no date has, as yet, been determined for the introduction of Stage II.) The remaining exemptions rel wing to express and contract drivers only, and to emergencies affecting passenger vehicles generally, should be permanent, the circular ' suggests.
Attached to the draft Regulations is a Schedule describing the exemptions for a driver dealing with an emergency, and the Schedule defines emergencies as events which: (a) cause or are likely to cause such:— (i) danger to the life or health of individuals, (ii) a serious'interruption in the maintenance of public services for the supply of water, gas, electricity or drainage or telecommunication or postal services, or (iii) a serious interruption in the free and safe passage of the roads by the public, or (iv) a serious interruption in private transport or in public transport (other than events which are trade disputes (within the meaning of the Trade Disputes Act 1906(a))involving persons who carry passengers for hire or reward), or (b) are likely to cause such serious damage to property as to necessitate the taking of immediate action to prevent the occurrence or continuance of such danger or interruption or the occurrence of such damage.
The above definition should remove the complaint made by at least one of the operators' associations that the Regulations did not clarify what should be regarded as emergencies.