A costly famine
2nd January 1970
Page 13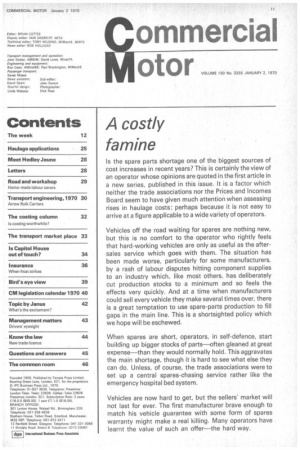 Page 13, 2nd January 1970 —
A costly famine
Close
Is the spare parts shortage one of the biggest sources of cost increases in recent years? This is certainly the view of an operator whose opinions are quoted in the first article in a new series, published in this issue. It is a factor which neither the trade associations nor the Prices and Incomes Board seem to have given much attention when assessing rises in haulage costs; perhaps because it is not easy to arrive at a figure applicable to a wide variety of operators.
Vehicles off the road waiting for spares are nothing new, but this is no comfort to the operator who rightly feels that hard-working vehicles are only as useful as the aftersales service which goes with them. The situation has been made worse, particularly for some manufacturers, by a rash of labour disputes hitting component supplies to an industry which, like most others, has deliberately cut production stocks to a minimum and so feels the effects very quickly. And at a time when manufacturers could sell every vehicle they make several times over, there is a great temptation to use spare-parts production to fill gaps in the main line. This is a shortsighted policy which we hope will be eschewed.
When spares are short, operators, in self-defence, start building up bigger stocks of parts—often gleaned at great expense—than they would normally hold. This aggravates the main shortage, though it is hard to see what else they can do. Unless, of course, the trade associations were to set up a central spares-chasing service rather like the emergency hospital bed system.
Vehicles are now hard to get, but the sellers' market will not last for ever. The first manufacturer brave enough to match his vehicle guarantee with some form of spares warranty might make a real killing. Many operators have learnt the value of such an offer—the hard way.