Masterhaul
2nd February 1985
Page 8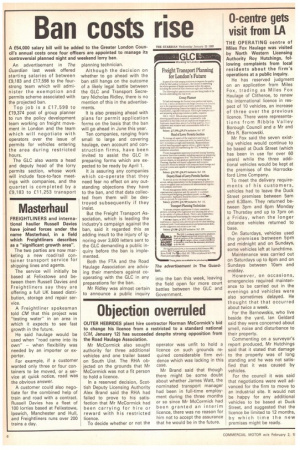 Page 8, 2nd February 1985 —
Masterhaul
Close
Keywords :
River Orwell
,
Geography Of England
,
Geography Of The United Kingdom
,
Felixstowe
,
Freightliner Trucks
,
Haulage
,
Ipswich
,
Shipping
,
Freightliner Group Limited
,
Local Government In England
,
Hospitality / Recreation
FREIGHTLINERS and international haulier Russell Davies have joined forces under the name Masterhaul, in a field which Freightliners describes as a "significant growth area".
The two parties are now marketing a new road/rail container transport service for shipping lines and agents.
The service will initially be based at Felixstowe and between them Russell Davies and Freightliners say they are offering a full UK based distribution, storage and repair service.
A Freightliner spokesman told CM that this project was "testing water" in an area in which it expects to see fast growth in the future.
He said haulage would be used when "road came into its own" — when flexibility was needed by an importer or exporter.
For example, if a customer wanted only three or four containers to be moved, or a service at quick notice, road was the obvious answer.
A customer could also negotiate for the combined help of train and road with a contract. Russell Davies has a fleet of 100 lorries based at Felixstowe, Ipswich, Manchester and Hull, and Freightliners runs over 200 trains a day.