Ban costs rise
2nd February 1985
Page 8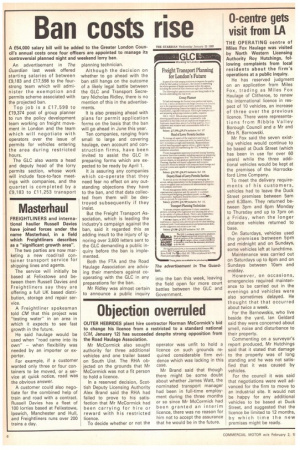 Page 8, 2nd February 1985 —
Ban costs rise
Close
A £54,000 salary bill will be added to the Greater London Council's annual costs once four officers are appointed to manage its controversial planned night and weekend lorry ban.
An advertisement in The Guardian last week offered starting salaries of between £9,183 and £17,598 to the fourstrong team which will administer the exemption and permits scheme associated with the projected ban.
Top job is a £17,598 to £19,374 post of group planner to run the policy development team working on freight movement in London and the team which will negotiate with operators over the issue of permits for vehicles entering the area during restricted hours.
The GLC also wants a head and deputy head of the lorry permits section, whose work will include face-to-face meetings with companies, and the quartet is completed by a £9,183 to £11,253 transport planning technician.
Although the decision on whether to go ahead with the ban still hangs on the outcome of a likely legal battle between the GLC and Transport Secretary Nicholas Ridley, there is no mention of this in the advertisements.
It is also pressing ahead with plans for permit application forms on the basis that the ban will go ahead in June this year.
Ten companies, ranging from small to large and covering haulage, own account and construction firms, have been invited to assist the GLC in preparing forms which are expected to be ready by April 1.
It is assuring any companies which co-operate that they need fear no effect on any outstanding objections they have to the ban, and that data collected from them will be destroyed subsequently if they insist.
But the Freight Transport Association, which is leading the industry's campaign against the ban, said it regarded this as adding insult to the injury of ignoring over 3,600 letters sent to the GLC demanding a public inquiry before the ban is implemented.
Both the FTA and the Road Haulage Association are advising their members against cooperating with the GLC in any preparations for the ban, Mr Ridley was almost certain to announce a public inquiry