Roger's hic echoes round the world
2nd February 1985
Page 70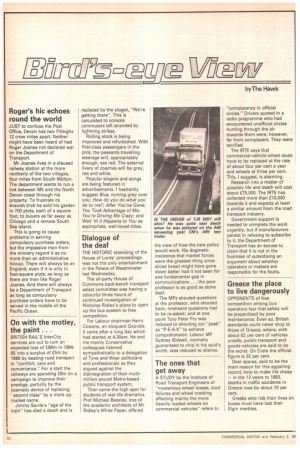 Page 70, 2nd February 1985 —
Roger's hic echoes round the world
Close
JUST to confuse the Post Office, Devon has two Filleighs 12 crow miles apart. Neither might have been heard of had Roger Joanes not declared war on the Department of Transport.
Mr Joanes lives in a disused railway station at the more northerly of the two villages, four miles from South Molton. The department wants to run a link between M5 and the North Devon coast through his property. To frustrate its knavish trick he sold his garden in 700 plots, each of a square foot, to buyers as far away as Chicago and a remote South Sea island.
This is going to cause problems in serving compulsory purchase orders, but the impassive men from the ministry regard it as no more than an administrative hiccup. There will always be an England, even if it is only in foot-square plots, as long as there are men like Roger Joanes. And there will always be a Department of Transport as long as compulsory purchase orders have to be served in the middle of the Pacific Ocean.