Dialogue of the deaf
2nd February 1985
Page 70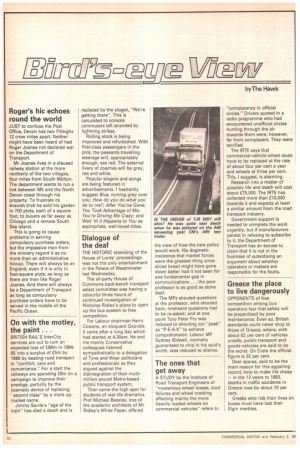 Page 70, 2nd February 1985 —
Dialogue of the deaf
Close
THE HISTORIC televising of the House of Lords' proceedings was not the only entertainment in the Palace of Westminster last Wednesday.
The all-party House of Commons back-bench transport select committee was having a colourful three hours of continued investigation of Nicholas Ridley's plans to open up the bus system to free competition.
For Labour chairman Harry Cowans, an eloquent Geordie, it came after a long day which had started at 4.30am. He and his mainly Conservative colleagues listened sympathetically to a delegation of Tyne and Wear politicians and professionals as they argued against the disintegration of their multimillion pound Metro-based public transport system.
Then came the high spot for students of real-life dramatics. Prof Michael Beesley, one of the academic architects of Mr Ridley's White Paper, offered his view of how the new policy would work. His dogmatic insistence that market forces were the greatest thing since sliced bread might have gone down better had it not been for one fundamental gap in communications . .. the poor professor is as good as stone deaf.
The MPs shouted questions at the professor, who shouted back; misheard questions had to be re-asked; and at one point Tory Peter Fry was reduced to shouting out "peak" as "P-E-A-K" to achieve comprehension. Labour MP Sydney Bidwell, normally guaranteed to chip in his quid's worth, was reduced to silence.