GM-Enasa deal closer
2nd February 1985
Page 7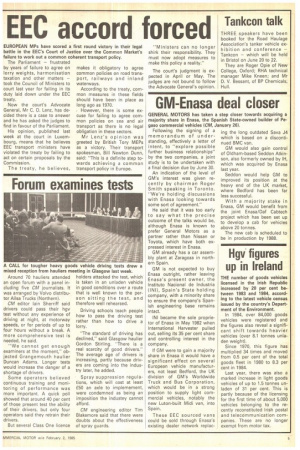 Page 7, 2nd February 1985 —
GM-Enasa deal closer
Close
GENERAL MOTORS has taken a step closer towards acquiring a majority share in Enasa, the Spanish State-owned builder of Pegaso commercial vehicles (CM, January 26).
Following the signing of a memorandum of understanding, effectively a letter of intent, to "explore possible further business relationships" by the two companies, a joint study is to be undertaken with a final decision due by June 30.
An indication of the level of GM's interest was given recently by chairman Roger Smith speaking in Toronto. "We're holding discussions with Enasa looking towards some sort of agreement."
He said that it was too early to say what the precise outcome of the talks would be, although Enasa is known to prefer General Motors as a partner rather than Nissan or Toyota, which have both expressed interest in Enasa.
GM already has a car assembly plant at Zaragoza in northern Spain.
GM is not expected to buy Enasa outright, rather leaving Enasa's present owner, the Institut° Nacional de Industrie (INI), Spain's State holding company, with a minority share to ensure the company's Spanish engineering base remains intact.
IN1 became the sole proprietor of Enasa in May 1982 when International Harvester pulled out, selling its 35 per cent share and controlling interest in the company.
If GM were to gain a majority share in Enasa it would have a significant effect on several European vehicle manufacturers, not least Bedford, the UK division of GM's Worldwide Truck and Bus Corporation, which would be in a strong position to supply light commercial vehicles, notably the new Luton-built Midi van, into Spain.
These EEC sourced vans could be sold through Enasa's existing dealer network replac ing the long outdated Sava J4 which is based on a discontinued BMC van.
GM would also gain control of Oldham-based Seddon Atkinson, also formerly owned by IH, which was acquired by Enasa last year.
Seddon would heip GM to improved its position at the heavy end of the UK market, where Bedford has been far less successful.
With a majority stake in Enasa, GM would benefit from the joint Enasa/Daf Cabtech project which has been set up to develop a cab for vehicles above 20 tonnes.
The new cab is scheduled to be in production by 1988.