Forum examines tests
2nd February 1985
Page 7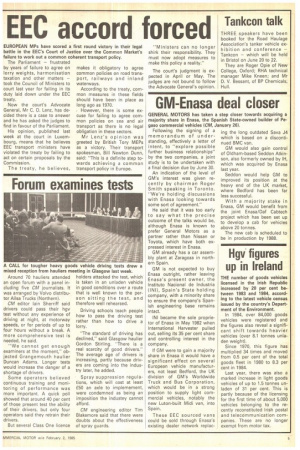 Page 7, 2nd February 1985 —
Forum examines tests
Close
A CALL for tougher heavy goods vehicle driving tests drew a mixed reception from hauliers meeting in Glasgow last week.
Around 70 hauliers attended an open forum with a panel including five CM journalists. It was arranged by Volvo distributor Ailsa Trucks (Northern).
CM editor lain Sherriff said drivers could pass their hgv test without any experience of driving at night, at motorway speeds, or for periods of up to four hours without a break. A more comprehensive test is needed, he said.
"We cannot get enough examiners at the moment," objected Grangemouth haulier Duncan Adams. Longer tests would increase the danger of a shortage of drivers.
Some operators believed continuous training and monitoring of performance was more important. A quick poll showed that around 40 per cent of those present test the ability of their drivers, but only four operators said they retrain their drivers.
But several Class One licence holders attacked the test, which is taken in an unladen vehicle in good conditions over a route that is well known to the person sitting the test, and therefore well rehearsed.
Driving schools teach people how to pass the driving test rather than how to drive a lorry.
"The standard of driving has declined," said Glasgow haulier Gordon Stirling. "There is a real scarcity of good drivers." The average age of drivers is increasing, partly because drivers are coming into the industry later, he added.
Spray suppression regulations, which will cost at least £50 an axle to implemement, were condemned as being an imposition the industey cannot afford.
CM engineering editor Tim Blakemore said that there were doubts about the effectiveness of spray guards.