Guernsey firm's trim operation
2nd February 1985
Page 66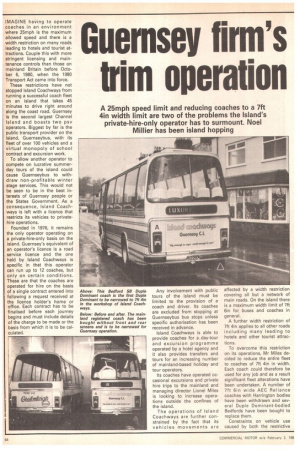 Page 67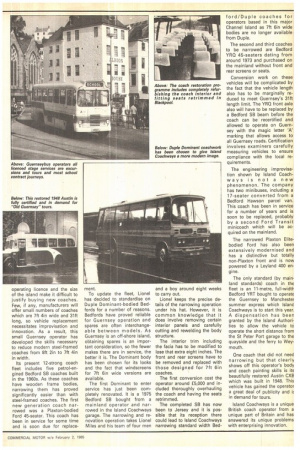 Page 66, 2nd February 1985 —
Guernsey firm's trim operation
Close
A 25mph speed limit and reducing coaches to a 7ft 4in width limit are two of the problems the Island's private-hire-only operator has to surmount. Noel Millier has been island hopping
IMAGINE having to operate coaches in an environment where 25mph is the maximum allowed speed and there is a width restriction on many roads leading to hotels and tourist attractions. Couple this with more stringent licensing and maintenance controls than those on mainland Britain before October 6, 1980, when the 1980 Transport Act came into force.
These restrictions have not stopped Island Coachways from running a successful coach fleet on an island that takes 45 minutes to drive right around along the coast road. Guernsey is the second largest Channel Island and boasts two psv operators. Biggest by far is the public transport provider on the island, Guernseybus, with its fleet of over 100 vehicles and a virtual monopoly of school contract and excursion work.
To allow another operator to compete on lucrative summerday tours of the island could cause Guernseybus to withdraw non-profitable winter stage services. This would not be seen to be in the best interests of Guernsey people or the States Government. As a consequence, Island Coachways is left with a licence that restricts its vehicles to privatehire operations.
Founded in 1976, it remains the only operator operating on a private-hire-only basis on the island. Guernsey's equivalent of an operator's licence is a road service licence and the one held by Island Coachways is specific in that this operator can run up to 12 coaches, but only on certain conditions. These are that the coaches are operated for hire on the basis of a single contract entered into following a request received at the licence holder's home or office. Each contract has to be finalised before each journey begins and must include details of the charge to be made or the basis from which it is to be calculated. Any involvement with public tours of the island must be limited to the provision of a coach and driver. Its coaches are excluded from stopping at Guernseybus bus stops unless specific authorisation has been received in advance.
Island Coachways is able to provide coaches for a day-tour and excursion programme operated by a hotel agency and it also provides transfers and tours for an increasing number of mainland-based holiday and tour operators.
Its coaches have operated occasional excursions and private hire trips to the mainland and managing director Lionel Miles is looking to increase operations outside the confines of the island.
The operations of Island Coachways are further constrained by the fact that its vehicles movements are affected by a width restriction covering all but a network of main roads. On the island there is a maximum width limit of 7ft 6in for buses and coaches in general.
A further width restriction of 7ft 4in applies to all other roads including many leading to hotels and other tourist attractions.
To overcome this restriction on its operations, Mr Miles decided to reduce the entire fleet to coaches of 7ft 4in in width. Each coach could therefore be used for any job and as a result significant fleet alterations have been undertaken. A number of 7ft 6in wide AEC Reliance coaches with Harrington bodies have been withdrawn and several Duple Dominant-bodied Bedfords have been bought to replace them.
Constraints on vehicle use caused by both the restrictive operating licence and the size of the island make it difficult to justify buying new coaches. Few, if any, manufacturers will offer small numbers of coaches which are 7ft 4in wide and 31ft long, so vehicle replacement necessitates improvisation and innovation. As a result, this small Guernsey operator has developed the skills necessary to reduce modern steel-framed coaches from 8ft 2in to 7ft 4in in width.
Its present 12-strong coach fleet includes five petrol-engined Bedford SB coaches built in the 1960s. As these coaches have wooden frame bodies, narrowing them has proved significantly easier than with steel-framed coaches. The first new generation coach narrowed was a Plaxton-bodied Ford 45-seater. This coach has been in service for some time and is soon due for replace
ment.
To update the fleet, Lionel has decided to standardise on Duple Dominant-bodied Bedfords for a number of reasons. Bedfords have proved reliable for Guernsey operation and spares are often interchangeable between models. As Guernsey is an off-shore island, obtaining spares is an important consideration, so the fewer makes there are in service, the better it is. The Dominant body has been chosen for its looks and the fact that windscreens for 7ft 6in wide versions are available.
The first Dominant to enter service has just been completely renovated. It is a 1975 Bedford SB bought from a mainland operator and narrowed in the Island Coachways garage. The narrowing and renovation operation takes Lionel Miles and his team of four men and a boy around eight weeks to carry out.
Lionel keeps the precise details of the narrowing operation under his hat. However, it is common knowledge that it does involve removing certain interior panels and carefully cutting and rewelding the body structure.
The interior trim including the facia has to be modified to lose that extra eight inches. The front and rear screens have to be removed and replaced with those designed for 7ft Sin coaches.
The first conversion cost the operator around £5,000 and included thoroughly overhauling the coach and having the seats retrimmed.
The completed SB has now been to Jersey and it is possible that its reception there could lead to Island Coachways narrowing standard width Bed
ford/Duple coaches for operators based in this major Channel Island as 7ft Sin wide bodies are no longer available from Duple.
The second and third coaches to be narrowed are Bedford YRQ 45-seaters dating from around 1973 and purchased on the mainland without front and rear screens or seats.
Conversion work on these vehicles will be complicated by the fact that the vehicle length also has to be marginally reduced to meet Guernsey's 31ft length limit. The YRQ front axle also will have to be replaced by a Bedford SB beam before the coach can be recertified and allowed to operate on Guernsey with the magic letter 'A' marking that allows access to all Guernsey roads. Certification involves examiners carefully measuring vehicles to ensure compliance with the local requirements.
The engineering improvisation shown by Island Coachways is not a new phenomenon. The company has two minibuses, including a 17-seater converted from a Bedford Hawson parcel van. This coach has been in service for a number of years and is soon to be replaced, probably by a second Ford Transit minicoach which will be acquired on the mainland.
The narrowed Plaxton Elitebodied Ford has also been extensively modernised and has a distinctive but totally non-Plaxton front and is now powered by a Leyland 400 engine.
The only standard (by mainland standards) coach in the fleet is an 11-metre, full-width Bedford YRT bought to operate the Guernsey to Manchester summer express which Islanc Coachways is to start this year. A dispensation has been granted by the Island Authorities to allow the vehicle to operate the short distance from the St Peter Port garage to the quayside and the ferry to Weymouth.
One coach that did not need narrowing but that clearly shows off this operator's body and coach painting skills is its beautifully restored Austin CXE1 which was built in 1948. This vehicle has gained the operator a great deal of publicity and ir in demand for tours.
Island Coachways is a unique British coach operator from a unique part of Britain and has answered its unique problems with enterprising innovation.