What you have to provide
2nd February 1985
Page 63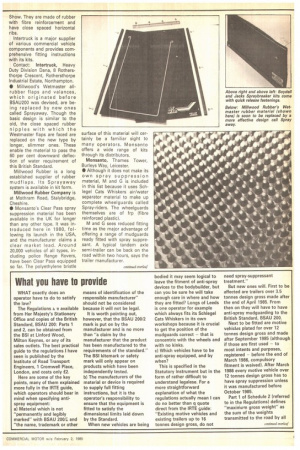 Page 64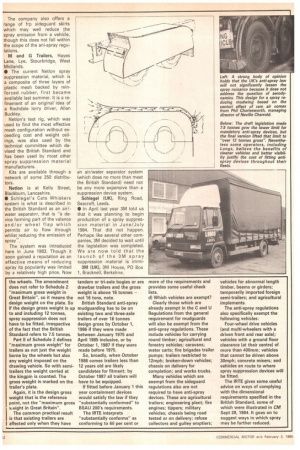 Page 63, 2nd February 1985 —
What you have to provide
Close
WHAT exactly does an operator have to do to satisfy the law?
The Regulations a a available from Her Majesty's Stationery Office and copies of the British Standard, BSAU 200: Parts 1 and 2, can be obtained from the BSI at Linford Wood,
Milton Keynes, or any of its sales outlets. The best practical guide to the regulations I have seen is published by the Institute of Road Transport Engineers, 1 Cromwell Place, London, and costs only £2.
Here are some of the key points, many of them explained more fully in the IRTE guide, which operators should bear in mind when specifying antispray equipment: a) Material which is not "permanently and legibly marked" with BSAU 200/: and "the name, trademark or other means of identification of the responsible manufacturer" should not be considered because it will not be legal.
It is worth pointing out, however, that the BSAU 200/2 mark is put on by the manufacturer and is no more than "a claim by the manufacturer that the product has been manufactured to the requirements of ihe standard." The BSI kitemark or safety mark will only appear on products which have been independently tested.
b) The manufacturers of the material or device is required to supply full fitting instructions, but it is the operator's responsibility to ensure that the equipment is fitted to satisfy the dimensional limits laid down by the Standard.
When new vehicles are being bodied it may seem logical to leave the fitment of anti-spray devices to the bodybuilder, but can you be sure he will take enough care in where and how they are fitted? Longs of Leeds is one operator for example which always fits its Schlegel Cats Whiskers in its own workshops because it is crucial to get the position of the mudguards correct — that is concentric with the wheels and with no kinks.
c) Which vehicles have to be anti-spray equipped, and by when?
This is specified in the Statutory Instrument but in the form of rather difficult to understand legalese. For a more straightforward explanation of what the regulations actually mean I can do no better than q quote direct from the IRTE guide: "Existing motive vehicles and existing trailers up to 16 tonnes design gross, do not need spray-suppressant treatment."
But new ones will. First to be affected are trailers over 3.5 tonnes design gross made after the end of April 1985. From then on they will have to have anti-spray mudguarding to the British Standard, BSAU 200.
Next to be fitted are motive vehicles plated for over 12 tonnes design gross and made after September 1985 (although if those are first used — to most intents and purposes, registered — before the end of March 1986, compulsory fitment is waived). After March 1986 every motive vehicle over 12 tonnes design gross has to have spray suppression unless it was manufactured before October 1985.
Part 1 of Schedule 2 (referred to in the Regulations) defines "maximum gross weight" as the sum of the weights transmitted to the road by all
the wheels. The amendment does not refer to Schedule 2 "maximum gross weight in Great Britain", so it means the design weight on the plate. So if the design gross weight is up to and including 12 tonnes, spray suppression does not have to be fitted, irrespective of the fact that the British Standard refers to 7.5 tonnes.
Part ll of Schedule 2 defines "maximum gross weight" for trailers as not just the weight borne by the wheels but also any weight imposed on the drawing vehicle. So with semitrailers the weight carried at the kingpin is counted. The gross weight is marked on the trailer's plate.
Again, it is the design gross weight that is the reference point, not the "maximum gross v..eight in Great Britain".
The common practical result is that existing trailers are I affected only when they have tandem or tri-axle bogies or are drawbar trailers and the gross weight is above 16 tonnes — not 16 tons, note.
British Standard anti-spray mudguarding has to be on existing two and three-axle trailers of over 16 tonnes design gross by October 1, 1986 if they were made between January 1975 and April 1985 inclusive, or by October 1, 1987 if they were made before 1975.
So, broadly, when October 1986 comes trailers less than 12 years old are likely candidates for fitment; by October 1987 all trailers will have to be equipped.
If fitted before January 1 this year containment devices would satisfy the law if they "substantially conformed" to BSAU 200's requirements.
The IRTE interprets "substantially conforms" as conforming to 60 per cent or more of the requirements and provides some useful check lists.
d) Which vehicles are exempt?
Clearly those which are already exempt in the C and U Regulations from the general requirement for mudguards will also be exempt from the anti-spray regulations. These include vehicles for carrying round timber; agricultural and forestry vehicles; caravans; water carts; fire brigades trailer pumps; trailers restricted to 12mph; broken-down vehicles; chassis on delivery for completion; and works trucks.
Many vehicles which are exempt from the sideguard regulations also are not required to have anti-spray devices. These are agricultural trailers; engineering plant; fire engines; tippers; military vehicles; chassis being road tested or on delivery; refuse collectors and gulley emptiers; vehicles for abnormal length timber, beams or girders; temporarily imported foreign semi-trailers; and agricultural implements.
The anti-spray regulations also specifically exempt the following vehicles: Four-wheel drive vehicles (and multi-wheelers with a driven front and rear axle); vehicles with a ground floor clearance (at their centre) of more than 400mm; vehicles that cannot be driven above 30mph; concrete mixers; and vehicles en route to where spray suppression devices will be fitted.
The IRTE gives some useful advice on ways of complying with the dimensional requirements specified in the British Standard, some of which were illustrated in CM Sept 28, 1984. It goes on to suggest ways in which spray may be further reduced.