A clear view through the anti-spray regs
2nd February 1985
Page 62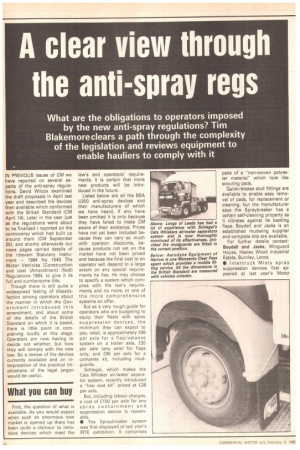 Page 63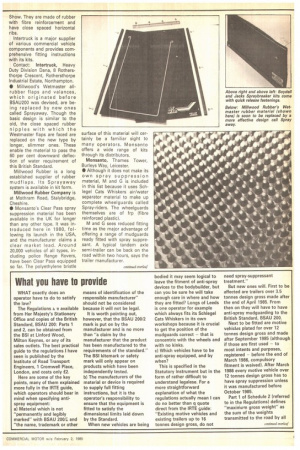 Page 64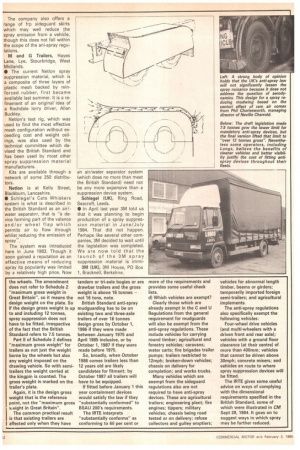 Page 62, 2nd February 1985 —
A clear view through the anti-spray regs
Close
What are the obligations to operators imposed by the new anti-spray regulations? Tim Blakemore clears a path through the complexity of the legislation and reviews equipment to enable hauliers to comply with it
IN PREVIOUS issues of CM we have reported on several aspects of the anti-spray regulations. David Wilcox examined the draft proposals in April last year and described the devices then available which conformed with the British Standard (CM April 14). Later in the year just as the regulations were about to be finalised I reported on the controversy which had built up around them (CM September 29), and shortly afterwards our news pages carried details of the relevant Statutory Instrument — 1984 No 1543 The Motor Vehicles (Construction and Use) (Amendment) (No6) Regulations 1984, to give it its full and cumbersome title.
Though there is still quite a widespread feeling of dissatisfaction among operators about the manner in which the Government introduced this amendment, and about some of the details of the British Standard on which it is based, there is little point in complaining loudly at this stage. Operators are now having to decide not whether, but how they will comply with the new law. So a review of the devices currently available and an interpretation of the practical implications of the legal jargon would be useful.
What you can buy
First, the question of what is available. As you would expect when such an enormous new market is opened up there has been quite a clamour to introduce devices which meet the law's and operators' requirements. It is certain that more new products will be introduced in the future.
Listed below are all the BSA U200 anti-spray devices and their manufacturers of which we have heard. If any have been omitted it is only because they have failed to make CM aware of their existence. Prices have not yet been included because they can vary so much with operator discounts, because products not yet on the market have not been priced and because the final cost to an operator will depend to a large extent on any special requirements he has. He may choose to specify a system which complies with the law's requirements and no more, or one of the more comprehensive systems on offer.
But as a very rough guide for operators who are budgeting to equip their fleets with spray suppression devices, the minimum they can expect to pay, retail, is approximately £66 per axle for a flap/valance system on a trailer axle, £20 per axle (any axle) for flaps only, and £90 per axle for a complete kit, including mudguards.
Schlegel, which makes the Cats Whisker air/water separator system, recently introduced a "low cost kit" priced at £38 per axle.
But, including labour charges, a cost of £100 per axle for any spray containment and suppression device is reasonable.
• The Spraybreaker system was first displayed at last year's IRTE exhibition. It comprises pads of a "non-woven polyester material" which look like scouring pads.
Quick-release stud fittings are available to enable easy removal of pads, for replacement or cleaning, but the manufacturer says the Spraybreaker has a certain self-cleaning property as it vibrates against its backing flaps. Boydell and Jacks is an established mudwing supplier and complete kits are available.
For further details contact: Boydell and Jacks, Winguard House, Healey Wood Industrial Estate, Burnley, Lancs.
• Intertruck Misty spray suppression devices first appeared at last year's Motor Show. They are made of rubber with fibre reinforcement and have close spaced horizontal ribs.
lntertruck is a major supplier of various commercial vehicle components and provides comprehensive fitting instructions with its kits.
Contact: Intertruck, Heavy Duty Division Dana, 8 Rothersthorpe Crescent, Rothersthorpe Industrial Estate, Northampton.
• Millwood's Wetmaster allrubber flaps and valances, which originated before BSAU200 was devised, are being replaced by new ones called Sprayaway. Though the basic design is similar to the old, the close spaced rubber nipples with which the Westmaster flaps are faced are replaced on the new type by longer, slimmer ones. These enable the material to pass the 60 per cent downward deflection of water requirement of this British Standard.
Millwood Rubber is a long established supplier of rubber mudflaps. Its Sprayaway system is available in kit form.
Millwood Rubber Company is at Mothram Road, Stalybridge, Cheshire.
• Monsanto's Clear Pass spray suppression material has been available in the UK for longer than any other type. It was introduced here in 1980, following its launch in the USA, and the manufacturer claims a clear market lead. Around 20,000 vehicles of all types, including police Range Rovers, have been Clear Pass equipped so far. The polyethylene bristle surface of this material will certainly be a familiar sight to many operators. Monsanto offers a wide range of kits through its distributors.
Monsanto, Thames Tower, Burleys Way, Leicester.
• Although it does not make its own spray suppression material, M and G is included in this list because it uses Schlegel Cats Whiskers air/water separator material to make up complete wheelguards called Spray-riders. The wheelguards themselves are of frp (fibre reinforced plastic).
M and G sees reduced fitting time as the major advantage of offering a range of mudguards ready fitted with spray suppresant. A typical tandem axle semi-trailer can be back on the road within two hours, says the trailer manufacturer. The company also offers a range of frp sideguard skirts which may well reduce the spray emission from a vehicle, though this does not fall within the scope of the ani-spray regulations.
M and G Trailers, Hayes Lane, Lye, Stourbridge, West Midlands.
• The current NetIon spray suppression material, which is a composite of three layers of plastic mesh backed by reinforced rubber, first became available last summer. It is a refinement of an original idea of a Rochdale lorry driver, Allan Buckley.
Netlon's test rig, which was used to find the most effective mesh configuration without exceeding cost and weight ceilings, was also used by the technical committee which devised the British Standard and has been used by most other spray suppression material manufacturers.
Kits are available through a network of some 250 distributors.
NetIon is at Kelly Street, Blackburn, Lancashire.
• Schlegel's Cats Whiskers system is what is described in the British Standard as an sinwater separator, that is "a device forming part of the valance and/or wheel flap which permits air to flow through whilst reducing the emission of spray".
The system was introduced here in June 1983. Though it soon gained a reputation as an effective means of reducing spray its popularity was limited by a relatively high price. Now an air/water separator system (which does no more than meet the British Standard) need not be any more expensive than a suppression device system.
Schlegel (UK), Ring Road, Seacroft, Leeds.
• In April last year 3M told us that it was planning to begin production of a spray suppression material in June/July 1984. That did not happen. Perhaps like several other companies, 3M decided to wait until the legislation was completed. We are now told that the launch of the 3M spray suppression material is immi
3M (UK), 3M House, PO Box 1, Bracknell, Berkshire.