Get your PSV CPC
2nd February 1985
Page 59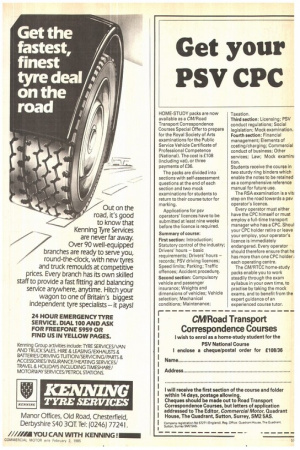 Page 59, 2nd February 1985 —
Get your PSV CPC
Close
HOME-STUDY packs are now available as a CM/Road Transport Correspondence Courses Special Offer to prepare for the Royal Society of Arts examinations for the Public Service Vehicle Certificate of Professional Competence (National), The cost is £108 (including vat), or three payments of £36.
The packs are divided into sections with self-assessment questions at the end of each section and two mock examinations for students to return to their course tutor for marking.
Applications for psv operators licences have to be submitted at least nine weeks before the licence is required.
Summary of course: First section: Introduction; Statutory control of the industry; Drivers' hours — basic requirements; Drivers' hours — records; PSV driving licences; Speed limits; Parking; Traffic offences; Accident procedure. Second section: Compulsory vehicle and passenger insurance; Weights and dimensions of vehicles; Vehicle selection; Mechanical conditions; Maintenance; Taxation.
Third section: Licensing; PSV conduct regulations; Social legislation; Mock examination. Fourth section: Financial management; Elements of costing/charging; Commercial conduct of business; Other services; Law; Mock examint tion.
Students receive the course in two sturdy ring binders which enable the notes to be retained as a comprehensive reference manual for future use.
The RSA examination is a vit step on the road towards a psv operator's licence.
Every operator must either have the CPC himself or must employ a full-time transport manager who has a CPC. Shoul your CPC holder retire or leave your employ, your operator's licence is immediately endangered. Every operator should therefore ensure that he has more than one CPC holder ; each operating centre.
The CM/RTCC home-study packs enable you to work steadily through the exam syllabus in your own time, to practise by taking the mock exams, and to benefit from the expert guidance of an experienced course tutor.