VSE expansion rides on Turner suspension
2nd February 1985
Page 56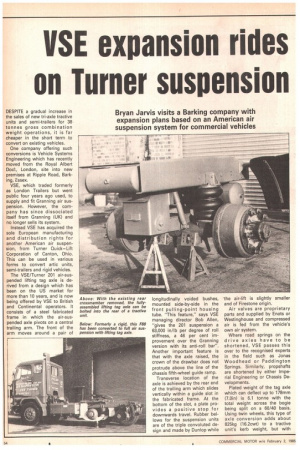 Page 57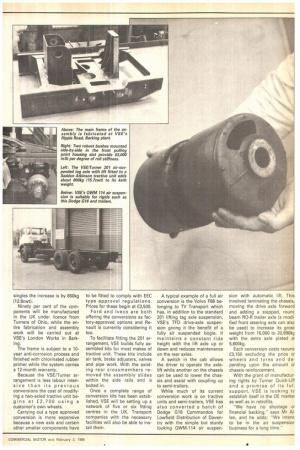 Page 56, 2nd February 1985 —
VSE expansion rides on Turner suspension
Close
Bryan Jarvis visits a Barking company with expansion plans based on an American air suspension system for commercial vehicles
DESPITE a gradual increase in the sales of new tri-axle tractive units and semi-trailers for 38 tonnes gross combination weight operations, it is far cheaper in the short term to convert on existing vehicles.
One company offering such conversions is Vehicle Systems Engineering which has recently moved from the Royal Albert Doc!:, London, site into new premises at Ripple Road, Barking, Essex.
VSE, which traded formerly as London Trailers but went public four years ago used, to supply and fit Granning air suspension. However, the company has since dissociated itself from Granning (UK) and no longer sells its system.
Instead VSE has acquired the sole European manufacturing and distribution rights for another American air suspension, from Turner Quick—Lift Corporation of Canton, Ohio. This can be used in various forms to convert artic units, semi-trailers and rigid vehicles.
The VSE/Turner 201 air-suspended lifting tag axle is derived from a design which has been on the US market for more than 10 years, and is now being offered by VSE to British and Continental operators. It consists of a steel fabricated frame in which the air-suspended axle pivots on a central trailing arm. The front of the arm moves around a pair of longitudinally voided bushes, mounted side-by-side in the front pulling-point housing tube. "This feature," says VSE managing director Bob Allen, "gives the 201 suspension a 63,000 in/lb per degree of roll stiffness, a 46 per cent improvement over the Granning version with its anti-roll bar". Another important feature is that with the axle raised, the crown of the drawbar does not protrude above the line of the chassis fifth-wheel guide ramp.
Transverse location of the axle is achieved by the rear end of the trailing arm which slides vertically within a guide slot in the fabricated frame. At the bottom of the slot, a plate provides a positive stop for downwards travel. Rubber bellows for the suspension units are of the triple convoluted design and made by Dunlop while the air-lift is slightly smaller and of Firestone origin.
Air valves are proprietary parts and supplied by Enots or Westinghouse and compressed air is fed from the vehicle's own air system.
Where road springs on the drive axles have to be shortened, VSE passes this over to the recognised experts in the field such as Jonas Woodhead or Paddington Springs. Similarly, propshafts are shortened by either Imperial Engineering or Chassis Developments.
Plated weight of the tag axle which can deflect up to 178mm (7.0in) is 6.1 tonne with the total weight across the bogie being split on a 60/40 basis. Using twin wheels, this type of axle conversion adds about 825kg (16.2cwt) to a tractive unit's kerb weight, but with singles the increase is by 650kg (12.8cwt).
Ninety per cent of the components will be manufactured in the UK under licence from Turners of Ohio, while the entire fabrication and assembly work will be carried out at VSE's London Works in Barking.
The frame is subject to a 10year anti-corrosion process and finished with chlorinated rubber primer while the system carries a 12-month warranty.
Because the VSE/Turner arrangement is less labour intensive than its previous conversions the cost of modifying a two-axled tractive unit begins at £2,700 using a customer's own wheels.
Carrying out a type approved conversion is more expensive because a new axle and certain other smaller components have to be fitted to comply with EEC type approval regulations. Prices for these begin at £3,500.
Ford and lveco are both offering the conversions as factory-approved options and Renault is currently considering it too.
To facilitate fitting the 201 arrangement, VSE builds fully assembled kits for most makes of tractive unit. These kits include air tank, brake adjusters, valves and pipe work With the existing rear crossmembers removed the assembly slides within the side rails and is bolted in.
Once a complete range of conversion kits has been established, VSE will be setting up a network of five or six fitting centres in the UK. Transport companies with the necessary facilities will also be able to install them. A typical example of a full air conversion is the Volvo FB8 belonging to TV Transport which has, in addition to the standard 201 lifting tag axle suspension, VSE's TFD drive-axle suspension giving it the benefit of a fully air suspended bogie. It maintains a constant ride height with the lift axle up or down and reduces maintenance on the rear axles.
A switch in the cab allows the driver to operate the axlelift while another on the chassis can be used to lower the chassis and assist with coupling up to semi-trailers.
While much of its current conversion work is on tractive units and semi-trailers, VSE has also converted a batch of Dodge G16 Commandos for Lowfield Distribution of Daventry with the simple but sturdy looking CIAM-114 air suspen
sion with automatic lift. This involved laminating the chassis, moving the drive axle forward and adding a stepped, rounc beam RO-R trailer axle (a modi• fied front steering axle can alsc be used) to increase its gross weight from 16,000 to 20,990ks with the extra axle plated al 5,600kg.
Each conversion costs raounc £3,150 excluding the price ol wheels and tyres and de• pending upon the amount ol chassis reinforcement.
With the grant of manufacturing rights by Turner Quick-Lifl and a promise of its full support, VSE is looking tc establish itself in the OE marke1 as well as in retrofits.
"We have no shortage 01 financial backing," says Mr Allen, and he adds: "We intenc to be in the air suspensior business for a long time."