Sealinkis ro-ro Harwich plan
2nd February 1985
Page 5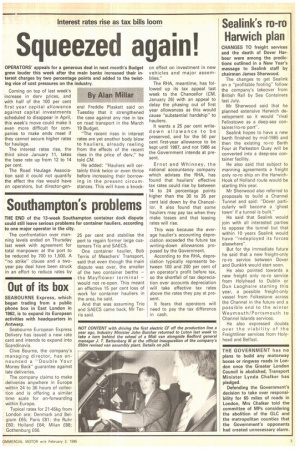 Page 5, 2nd February 1985 —
Sealinkis ro-ro Harwich plan
Close
CHANGES TO freight services and the death of Dover Harbour were among the predictions outlined in a New Year's message to Sealink staff by chairman James Sherwood, The changes to get Sealink on a "profitable footing" follow the company's takeover from British Rail by Sea Containers last July.
Mr Sherwood said that he planned extensive Harwich development so it would "rival Felixstowe as a deep-sea container/ro-ro port".
Sealink hopes to have a new berth finished by mid-1985 and then the existing ro-ro Berth Four at Parkeston Quay will be converted into a deep-sea container facility.
He also said that subject to manning agreements a freight only ro-ro ship on the HarwichHook of Holland route would be starting this year.
Mr Sherwood also referred to proposals to build a Channel Tunnel and said: "Dover particularly will become a 'ghost town' if a tunnel is built."
He said that Sealink would join with all interested parties to oppose the tunnel but that within 10 years Sealink would have "redeployed its forces elsewhere".
But for the immediate future he said that a new freight-only ro-ro service between Dover and Dunkirk would start soon.
He also pointed towards a new freight only ro-ro service from Holyhead to Dublin or Dun Laoghaire starting this year, a possible freight-only vessel from Folkestone across the Channel in the future and a possible end to the winter Weymouth/Portsmouth to Channel Islands services.
He also expressed doubts over the viability of the Freightliner services from Holyhead and Belfast.