False dawn or real recovery?
2nd February 1985
Page 46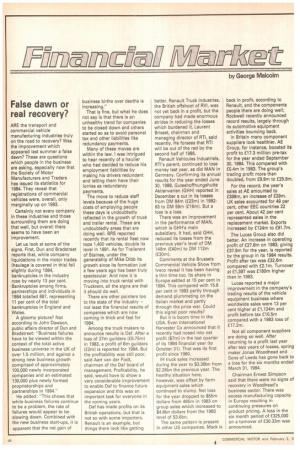 Page 46, 2nd February 1985 —
False dawn or real recovery?
Close
ARE the transport and commercial vehicle manufacturing industries truly on the road to recovery? Was the improvement which appeared last summer a false dawn? These are questions which people in the business are asking, especially now that the Society of Motor Manufacturers and Traders has issued its statistics for 1984. They reveal that registrations of commercial vehicles were, overall, only marginally up on 1983.
Certainly not every company in these industries and those surrounding them are doing that well, but overall there seems to have been an improvement.
Let us look at some of the signs. First, Dun and Bradstreet reports that, while company liquidations in the motor trades (haulage is covered in this) fell slightly during 1984, bankruptcies in the industry rose by nearly 13 per cent. Bankruptcies among firms, partnerships and individuals in 1984 totalled 887, representing 11 per cent of the total bankruptcies in England and Wales.
A gloomy picture? Not according to John Dawson, public affairs director of Dun and Bradstreet: "Business failures have to be viewed within the context of the total active business universe in the UK of over 1.5 million, and against a strong new business growth comprised of approximately 100,000 newly incorporated companies and an estimated 130,000 plus newly formed proprietorships and partnerships in 1984."
He added: "This shows that while business failures continue to be a problem, the rate of failures would appear to be slowing down. Combined with the new business start-ups, it is apparent that the net gain of business births over deaths is increasing."
That is fine, but what he does not say is that there is an unhealthy trend for companies to be closed down and others started so as to avoid personal tax and other liabilities like redundancy payments.
Many of these moves are within the law. I was intrigued to hear recently of a haulier who had decided to reduce his employment liabilities by making his drivers redundant and letting them have their lorries as redundancy payments.
The move to reduce staff levels because of the huge costs of employing people these days is undoubtedly reflected in the growth of truck and trailer rental. These are undoubtedly areas that are doing well. BRS reported recently that its rental fleet now tops 1,400 vehicles, double its level in 1981. As for Trailerent of Staines, under the generalship of Mike Dibb its growth since its formation just a few years ago has been truly spectacular. And now it is moving into truck rental with Truckrent, all the signs are that it should do well.
There are other pointers too to the state of the industry — not least the financial results of companies which are now coming in thick and fast for 1984.
Among the truck makers to announce results is Daf. After a loss of 27m guilders (£6.75m) in 1983, a profit of 8m guilders (£2m) is reported for 1984. But the profitability was still poor, said Aart van der Padt, chairman of the Daf board of management. Profitability, he said, would have to show a very considerable improvement to enable Daf to finance future expansion and this was an important task for everyone in the coming years.
Daf has made profits on its British operations, but that is not so with some importers. Renault is an example, but things there look like getting
better. Renault Truck Industries, the British offshoot of RVI, was not yet back in a profit, but the company had made enormous strides in reducing the losses which burdened it, Laurent Brisset, chairman and managing director of RTI, said recently. He forsees that RTI will be out of the red by the second half of 1986.
Renault Vehicules Industrials, RTI's parent, continued to lose money last year, as did MAN in Germany. Confirming its annual results for the year ended June 30, 1986, Guteshoffnungshutte Aktienverien (GHH) reported in December a cut in its losses from DM 84m (£23m) in 198283 to DM 59m (£16m). But a loss is a loss.
There was an improvement in the performance of MAN, which is GHH's main subsidiary. It had, said GHH, reduced its losses from the previous year's level of DM 148m (£40m) to DM 112m (E30m).
Comments at the Brussels Commercial Vehicle Show from lveco reveal it has been having a thin time too. Its share in Europe settled at 15 per cent in 1984. This compared with 15.8 per cent in 1983 partly through demand plummeting on the Italian market and partly through the price war. Could this signal poor results?
But it is boom time in the USA. Even International Harvester Co announced that it recently had nosed into net profit ($7m) in the last quarter of its 1984 financial year (to October 31). That was its first profit since 1980.
IH truck sales increased during the year to S3.38bn from $2.28bn the previous year. The healthy situation here, however, was offset by farm equipment sales which continued to slump. Net loss for the year dropped to $55m dollars from 485m in 1983 on group sales which increased to $4.8bn dollars from the 1983 level of $3.6bn.
The same pattern is present in other US companies. Mack is back in profit, according to Renault, and the components people there are doing well; Rockwell recently announced record results, largely through its automotive equipment activities bouncing back.
In Britain many component suppliers look healthier. AE Group, for instance, boosted its profit to £17.3 million pre-tax for the year ended September 30, 1984. This compared with £0.4m in 1983. The group's trading profit more than doubled, from £9.9m to £25.9m.
For the record, the year's sales at AE amounted to £398m, an increase of £29m. UK sales accounted for 49 per cent, other EEC countries 22 per cent. About 42 per cent represented sales in the replacement market. Exports increased by £124m to £91.7m.
The Lucas Group also did better. An increase in operating profit of £27.8m on 1983, giving £37.9m for the year, is reported by the group in its 1984 results. Profit after tax was £32.6m compared with £2.1m. Turnover at £1,397 was £180m higher than in 1983.
Lucas reported a major improvement in the company's trading results of the vehicle equipment business where worldwide sales were 13 per cent higher at £1,124m and profit before tax £10.5m compared with a 1983 loss of £17.2m,
Not all component suppliers are doing so well. After returning to a profit last year after two years of losses, spring maker Jonas Woodhead and Sons of Leeds has gone back to a loss for the six months ended March 31, 1984.
Chairman Ernest Simpson said that there were no signs of recovery in Woodhead's business sector. There was excess manufacturing capacity in Europe resulting in continuing pressures on product pricing. A loss in the six month period of £325,000 on a turnover of £30.33m was announced.