Go for conversion
2nd February 1985
Page 4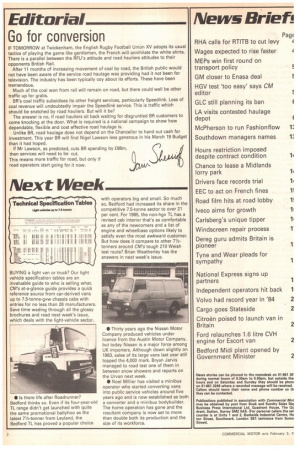 Page 4, 2nd February 1985 —
Go for conversion
Close
IF TOMORROW at Twickenham, the English Rugby Football Union XV adopts its usual tactics of playing the game like gentlemen, the French will annihilate the white shirts. There is a parallel between the RFU's attitude and road hauliers attitudes to their opponents British Rail.
After 11 months of increasing movement of coal by road, the British public would not have been aware of the service road haulage was providing had it not been for television. The industry has been typically coy about its efforts. These have been tremendous.
Much of the coal won from rail will remain on road, but there could well be other traffic up for grabs.
BR's coal traffic subsidises its other freight services, particularly Speedlink. Loss of coal revenue will undoubtedly impair the Speedlink service. This is traffic which should be snatched by road hauliers. But will it be?
The answer is no, if road hauliers sit back waiting for disgruntled BR customers to come knocking at the door. What is required is a national campaign to show how dependable, flexible and cost effective road haulage is.
Unlike BR, road haulage does not depend on the Chancellor to hand out cash for investment. This year BR will find Nigel Lawson less generous in his March 19 Budget than it had hoped.
If Mr Lawson, as predicted, cuts BR spending by £88m, then services will need to be cut.
This means more traffic for road, but only if road operators start going for it now.