Understanding the freight business
2nd February 1985
Page 38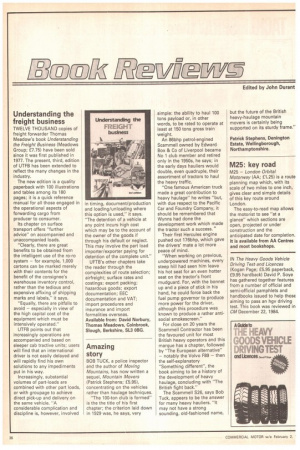 Page 38, 2nd February 1985 —
Understanding the freight business
Close
TWELVE THOUSAND copies of freight forwarder Thomas Meadow's book Understanding the Freight Business (Meadows Group; £7.75) have been sold since it was first published in 1977. The present, third, edition of UTFB has been extended to reflect the many changes in the industry.
The new edition is a quality paperback with 100 illustrations and tables among its 180 pages; it is a quick reference manual for all those engaged in the operational aspects of forwarding cargo from producer to consumer.
Its chapter on surface transport offers "further advice" on accompanied and unaccompanied loads.
"Clearly, there are great benefits to be obtained from the intelligent use of the ro-ro system — for example, 1,000 cartons can be marked merely with their contents for the benefit of the consignee's warehouse inventory control, rather than the tedious and expensive affixing of shipping marks and labels," it says.
"Equally, there are pitfalls to avoid — especially in view of the high capital cost of the equipment which must be intensively operated."
UTFB points out that increasingly operations are accompanied and based on sleeper cab tractive units; users will find that an international driver is not easily delayed and will rapidly find his own solutions to any impediments put in his way.
Increasingly, substantial volumes of part-loads are combined with other part loads, or with groupage to achieve direct pick-up and delivery on the same vehicle. "A considerable complication and discipline is, however, involved in timing, document/production and loading/unloading where this option is used," it says. "The detention of a vehicle at any point incurs high cost which may be to the account of the owner of the goods if through his default or neglect. This may involve the part load importer/exporter paying for detention of the complete unit."
UFTB's other chapters take the reader through the complexities of route selection; airfreight; surface rates and costings; export packing; hazardous goods; export documentation; EEC documentation and VAT; import procedures and insurance and import formalities overseas.
Available from: David Norbury, Thomas Meadows, Colnbrook, Slough, Berkshire, SL3 OBG.