Amazing story
2nd February 1985
Page 38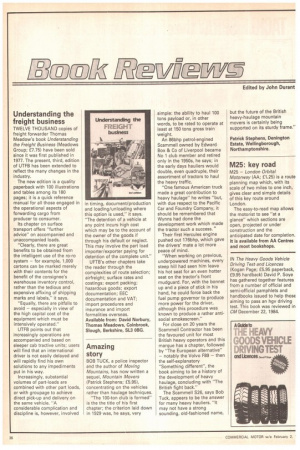 Page 38, 2nd February 1985 —
Amazing story
Close
BOB TUCK, a police inspector and the author of Moving Mountains, has now written a sequel, Mountain Movers (Patrick Stephens; £5.95), concentrating on the vehicles rather than haulage techniques.
"The 100-ton club is formed" is the the title of his first chapter; the criterion laid down in 1929 was, he says, very simple: the ability to haul 100 tons payload or, in other words, to be rated to operate at least at 150 tons gross train weight.
An 86bhp petrol-engined Scammell owned by Edward Box & Co of Liverpool became No 1 club member and retired only in the 1950s, he says; in the early days hauliers would double, even quadruple, their assortment of tractors to haul the heavy traffic.
"One famous American truck made a great contribution to heavy haulage" he writes "but, with due respect to the Pacific Car and Foundry Company, it should be remembered that Wynns had done the development work which made the tractor such a success."
Their first Hercules engine pushed out 176bhp, which gave the drivers' mate a lot more peace of mind.
"When working on previous, underpowered machines, every steep hill had seen him leave his hot seat for an even hotter seat on the tractor's front mudguard. For, with the bonnet up and a piece of stick in his hand, he could force back the fuel pump governor to produce more power for the driver, although this procedure was known to produce a rather antisocial smokescreen."
For close on 20 years the Scammell Contractor has been the favoured unit for most British heavy operators and this marque has a chapter, followed by "The European alternative" — notably the Volvo F89 — then the self-explanatory "Something different", the book aiming to be a history of the development of heavy haulage, concluding with "The British fight back."
The Scammell 526, says Bob Tuck, appears to be the answer for many heavy hauliers. "It may not have a strong sounding, old-fashioned name, but the future of the British heavy-haulage mountain movers is certainly being supported on its sturdy frame."
Patrick Stephens, Denington Estate, Wellingborough, Northamptonshire.