Twilight zone
2nd February 1985
Page 36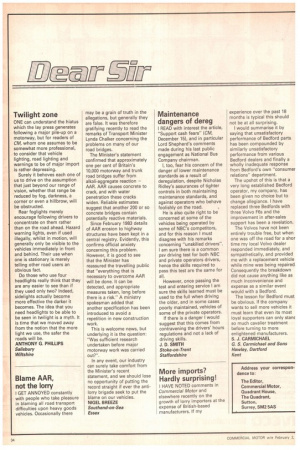 Page 36, 2nd February 1985 —
Twilight zone
Close
Keywords :
Series
,
Lighting
,
Night
,
Twilight
,
Visibility
,
Sidelight
,
Hillbrow
,
The Twilight Zone
,
Automotive Lighting
,
Speculative Fiction
,
Time
ONE can understand the hiatus which the lay press generates following a major pile-up on a motorway, but for readers of CM, whom one assumes to be somewhat more professional, to consider that vehicle lighting, road lighting and warnings to be of major import is rather depressing.
Surely it behoves each one of us to drive on the assumption that just beyond our range of vision, whether that range be reduced by fog, darkness, a corner or even a hillbrow, will be obstructed.
Rear foglights merely encourage following drivers to concentrate on them rather than on the road ahead. Hazard warning lights, even if used illegally, whilst in motion, will generally only be visible to the vehicles immediately in front and behind. Their use when one is stationary is merely telling other road users an obvious fact.
Do those who use four headlights really think that they are any easier to see than if they used only two? Indeed, sidelights actually become more effective the darker it becomes. The idea that you need headlights to be able to be seen in twilight is a myth. It is time that we moved away from the notion that the more light we use, the safer the roads will be.
ANTHONY G. PHILLIPS Salisbury Wiltshire