More imports? Hardly surprising!
2nd February 1985
Page 36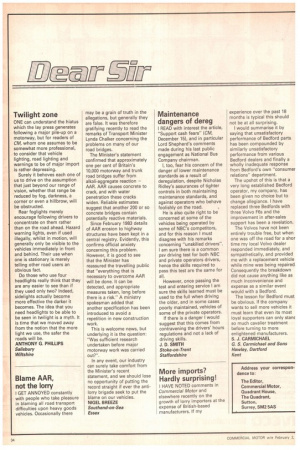 Page 36, 2nd February 1985 —
More imports? Hardly surprising!
Close
I HAVE NOTED comments in Commercial Motor and elsewhere recently on the growth of lorry importers at the expense of British-based manufacturers. If my experience over the past 18 months is typical this should not be at all surprising.
I would summarise it by saying that unsatisfactory performance of Bedford parts has been compounded by similarly unsatisfactory performance from various Bedford dealers and finally a wholly inadequate response from Bedford's own "consumer relations" department.
The upshot of this is that a very long established Bedford operator, my company, has been given no choice but to change allegiance. I have replaced three Bedfords with three Volvo F6s and the improvement in after-sales support has been a revelation.
The Volvos have not been entirely trouble free, but when one was off the road for a shor time my local Volvo dealer responded immediately, and sympathetically, and provided me with a replacement vehicle while mine was being repaired Consequently the breakdown did not cause anything like as much inconvenience and expense as a similar event would with a Bedford.
The lesson for Bedford must be obvious. If the company wants to sell more vehicles it must learn that even its most loyal supporters can only stanc so much cavalier treatment before turning to more enlightened manufacturers. S. J. CARMICHAEL G. S. Carmichael and Sons Hawley, Dartford Kent