Maintenance dangers of dereg
2nd February 1985
Page 36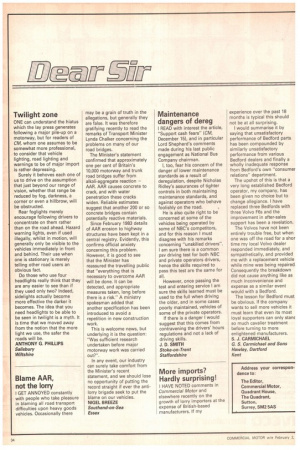 Page 36, 2nd February 1985 —
Maintenance dangers of dereg
Close
I READ with interest the article, "Support cash fears" (CM, December 16), and in particular Lord Shepherd's comments made during his last public engagement as National Bus Company chairman.
I, too, fear his concern of the danger of lower maintenance standards as a result of deregulation, despite Nicholas Ridley's assurances of tighter controls in both maintaining maintenance standards, and against operators who behave foolishly on the road.
He is also quite right to be concerned at some of the vehicles being operated by some of NBC's competitors, and for this reason I must disagree with his remarks concerning "unskilled drivers". I am sure there is a common psv driving test for both NBC and private operators drivers, hence the skills required to pass this test are the same for all.
However, once passing the test and entering service I am sure the skills learned must be used to the full when driving the older, and in some cases poorly maintained, vehicles of some of the private operators.
If there is a danger I would suggest that this comes from contravening the drivers' hours regulations and not a lack of driving skills.
J. D. SMITH Stoke-on-Trent Staffordshire