Blame AAR not the lorry
2nd February 1985
Page 36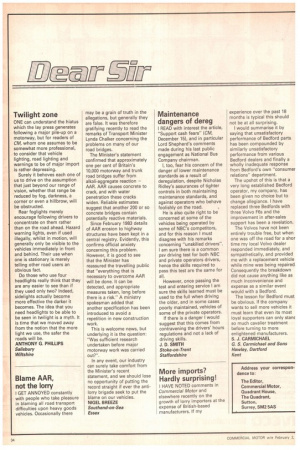 Page 36, 2nd February 1985 —
Blame AAR not the lorry
Close
I GET ANNOYED constantly with people who take pleasure in blaming all road transport difficulties upon heavy goods vehicles. Occasionally there may be a grain of truth in the allegations, but generally they are false. It was therefore gratifying recently to read the remarks of Transport Minister Lynda Chalker concerning the problems on many of our road bridges.
The Minister's statement confirmed that approximately one per cent of Britain's 10,000 motorway and trunk road bridges suffer from alkali-aggregate reaction — AAR. AAR causes concrete to crack, and with water penetration these cracks widen. Reliable estimates suggest that another 200 or so concrete bridges contain potentially reactive materials.
Since February 1983 details of AAR erosion to highway structures have been kept in a central registry. Evidently, this confirms official anxiety concerning this problem. However, it is good to see that the Minister has reassured the travelling public that "everything that is necessary to overcome AAR will be done. It can be detected, and appropriate measures taken, long before there is a risk." A ministry spokesman added that another specification has been introduced to avoid a repetition in new construction work.
This is welcome news, but underlying it is the question: "Was sufficient research undertaken before major motorway work was carried Out?".
In any event, our industry can surely take comfort from the Minister's recent statement, and we should lose no opportunity of putting the record straight if ever the antilorry brigade seek to put the blame on our vehicles.
NIGEL BREEZE Southend-on-Sea Essex