Strong defence for Metro
2nd February 1985
Page 20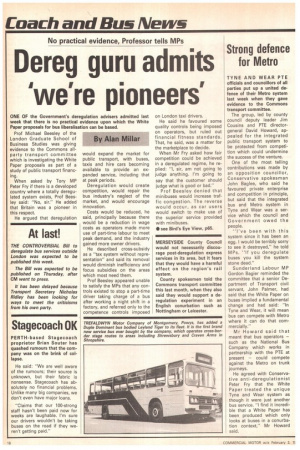 Page 20, 2nd February 1985 —
Strong defence for Metro
Close
TYNE AND WEAR PTE officials and councillors of all parties put up a united defence of their Metro system last week when they gave evidence to the Commons transport committee.
The group, led by county council deputy leader Jim Cousins and PTE directorgeneral David Howard, appealed for the integrated public transport system to be protected from competition which could undermine the success of the venture.
One of the most telling contributions was made by an opposition councillor, Conservative spokesman John Baglee, who said he favoured private enterprise and competition in principle, but said that the integrated bus and Metro system in Tyne and Wear was a service which the council and Government owed the people.
"I've been with this system since it has been an egg. I would be terribly sorry to see it destroyed," he told MPs. "If you deregulate buses you kill the system stone dead."
Sunderland Labour MP Gordon Bagier reminded the committee that a senior Department of Transport civil servant, John Palmer, had said that the White Paper on buses implied a fundamental change and had said: "In Tyne and Wear, it will mean bus can compete with Metro where it can do that commercially."
Mr Howard said that meant thatbus operators — such as the National Bus Company which works in partnership with the PTE at present — could compete against the Metro on trunk journeys.
He agreed with Conservative anti-deregulationist Peter Fry that the White Paper treated the unique Tyne and Wear system as though it were just another bus service. "I find it incredible that a White Paper has been produced which only looks at buses in a conurbation context," Mr Howard said.