No practical evidence, Professor tells MPs
2nd February 1985
Page 20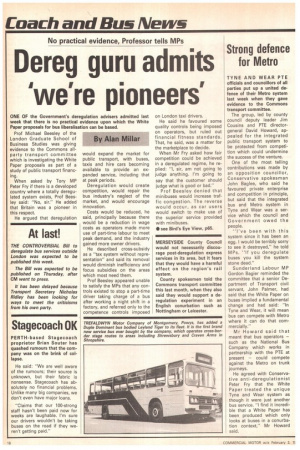 Page 20, 2nd February 1985 —
No practical evidence, Professor tells MPs
Close
ereg guru admits
'we're re pioneers1
By Alan Millar
ONE OF the Government's deregulation advisers admitted last week that there is no practical evidence upon which the White Paper proposals for bus liberalisation can be based.
Prof Michael Beesley of the London Graduate School of Business Studies was giving evidence to the Commons allparty transport committee which is investigating the White Paper proposals as part of a study of public transport financing.
When asked by Tory MP Peter Fry if there is a developed country where a totally deregulated system exists, Prof Beesley said: "No, sir." He added that Britain was a pioneer in this respect.
He argued that deregulation would expand the market for public transport, with buses, taxis and hire cars becoming available to provide an expanded service, including that at peak periods.
Deregulation would create competition, would repair the bus industry's neglect of the market, and would encourage innovation.
Costs would be reduced, he said, principally because there would be a reduction in wage costs as operators made more use of part-time labour to meet peak demand, and the industry gained more owner drivers.
He described cross-subsidy as a "tax system without representation" and said its removal would diminish inefficiency and focus subsidies on the areas which most need them.
Prof Beesley appeared unable to satisfy the MPs that any controls existed to stop a part-time driver taking charge of a bus after working a night shift in a factory, and referred only to the competence controls imposed on London taxi drivers.
He said he favoured some quality controls being imposed on operators, but ruled out financial fitness standards. That, he said, was a matter for the marketplace to decide.
When Mr Fry asked how fair competition could be achieved in a deregulated regime, he replied: "I, sir, am not going to judge anything. I'm going to say that the customer should judge what is good or bad."
Prof Beesley denied that minibuses would increase traffic congestion. The reverse would occur, as car users would switch to make use of the superior service provided with minibuses.
• see Bird's Eye View, p65.