It's a bullseye
2nd February 1985
Page 19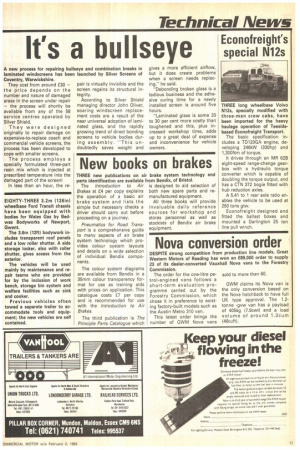 Page 19, 2nd February 1985 —
It's a bullseye
Close
Keywords :
A new process for repairing bullseye and combination breaks in laminated windscreens has been launched by Silver Screens of Coventry, Warwickshire.
They cost from around £30 — the price depends on the number and nature of damaged areas in the screen under repair — the process will shortly be available from any of the 58 service centres operated by Silver Shield.
They were designed originally to repair damage on expensive-to-replace coach and commercial vehicle screens, the process has been developed to cope with smaller screens.
The process employs a specially formulated three-part resin mix which is injected at prescribed temperature into the damaged part of the screenl In less than an hour, the re pair is virtually invisible and the screen regains its structural integrity.
According to Silver Shield managing director John Oliver, soaring windscreen replacement costs are a result of the near universal adoption of laminated glass, and the rapidly growing trend of direct bonding screens to vehicle bodies during assembly. "This undoubtedly saves weight and gives a more efficient airflow, but it does create problems when a screen needs replacing," he said.
"Debonding broken glass is a tedious business and the adhesive curing time for a newly installed screen is around five hours.
"Laminated glass is some 20 to 30 per cent more costly than toughened and this, plus increased workshop time, adds up to a great deal of expense and inconvenience for vehicle owners.