Road lobby slammed
2nd February 1985
Page 17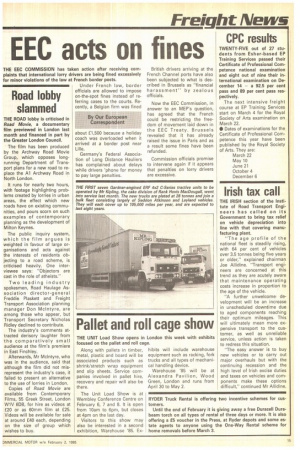 Page 17, 2nd February 1985 —
Road lobby slammed
Close
THE ROAD lobby is criticised in Road Movie, a documentary film previewed in London last month and financed in part by the Greater London Council.
The film has been produced by the Archway Road Movie Group, which opposes longrunning Department of Transport plans for a new road to replace the Al Archway Road in North London.
It runs for nearly two hours, with footage highlighting problems created by lorries in urban areas, the effect which new roads have on existing communities, and pours scorn on such examples of contemporary planning as the development of Milton Keynes.
The public inquiry system, which the film argues is weighted in favour of large organisations and acts against the interests of residents objecting to a road scheme, is criticised heavily. One interviewee says: "Objectors are cast in the role of atheists."
Two leading industry spokesmen, Road Haulage Association director-general Freddie Plaskett and Freight Transport Association planning manager Don McIntyre, are among those who appear, but Transport Secretary Nicholas Ridley declined to contribute.
The industry's comments attracted derisory laughter from the comparatively small audience at the film's premiere in East Finchley.
Afterwards, Mr McIntyre, who was in the audience, said that although the film did not misrepresent the industry's case, it failed to present an alternative to the use of lorries in London.
Copies of Road Movie are available from Contemporary Films, 55 Greek Street, London W1V 6DB, for hire as videos at £20 or as 60mm film at £25. Videos will be available for sale at around £40 each, depending on the size of group which wishes to buy.