Off the danger list
2nd February 1985
Page 16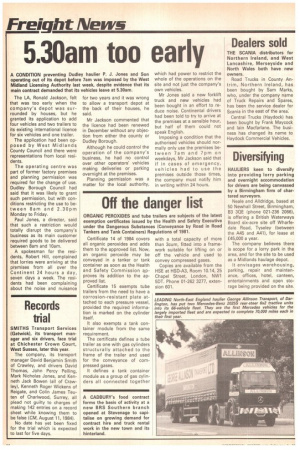 Page 16, 2nd February 1985 —
Off the danger list
Close
ORGANIC PEROXIDES and tube trailers are subjects of the latest exemption certificates issued by the Health and Safety Executive under the Dangerous Substances (Conveyance by Road in Road Tankers and Tank Containers) Regulations of 1981.
Certificate 14 of 1984 covers all organic peroxides and adds them to the approved list. Now, an organic peroxide may be conveyed in a tanker or tank container as soon as the Health and Safety Commission qpproves its addition to the approved list.
Certificate 15 exempts tube trailers from the need to have a corrosion-resistant plate attached to each pressure vessel, provided the required information is marked on the cylinder itself.
It also exempts a tank container module from the same requirement.
The certificate defines a tube trailer as one with gas cylinders structurally attached to the frame of the trailer and used for the conveyance of compressed gases.
It defines a tank container module as a group of gas cylinders all connected together with a total capacity of more than 3cum, fitted into a framework suitable for lifting on or off the vehicle and used to convey compressed gases.
Copies are available from the HSE at HSD-A3, Room 10.14, 25 Chapel Street, London, NW1 5DT. Phone 01-262 3277, extension 601.