5.30am too early
2nd February 1985
Page 16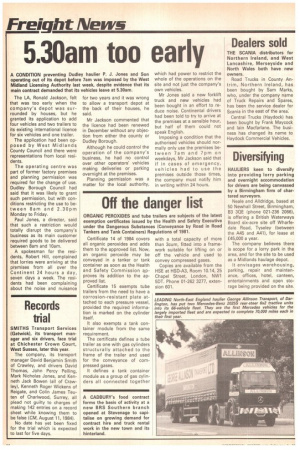 Page 16, 2nd February 1985 —
5.30am too early
Close
A CONDITION preventing Dudley haulier P. J. Jones and Son operating out of its depot before Jam was imposed by the West Midland Licensing Authority last week, despite evidence that its main contract demanded that its vehicles leave at 5.30am.
The LA, Ronald Jackson, felt that was too early when the company's depot was surrounded by houses, but he granted its application to add four vehicles and two trailers to its existing international licence for six vehicles and one trailer.
The application had been opposed by West Midlands County Council and there were representations from local residents.
The operating centre was part of former factory premises and planning permission was required for the change of use. Dudley Borough Council had said that it was likely to grant such permission, but with conditions restricting the use to between 8am and 2.3 Opm Monday to Friday.
Paul Jones, a director, said that such a restriction would totally disrupt the company's business as its main customer required goods to be delivered between 8am and 10am.
A spokesman for the residents, Robert Hill, complained that lorries were arriving at the premises from all over the Continent 24 hours a day, seven days a week. The residents had been complaining about the noise and nuisance for two years and it was wrong to allow a transport depot at the back of their houses, he said.
Mr Jackson commented that the licence had been renewed in December without any objection from either the county or Dudley Borough.
Although he could control the operation of the company's business, he had no control over other operators' vehicles making deliveries or parking overnight at the premises.
Planning permission was a matter for the local authority, which had power to restrict the whole of the operations on the site and not just the company's own vehicles.
Mr Jones said a new forklift truck and new vehicles had been bought in an effort to reduce noise. Continental drivers had been told to try to arrive at the premises at a sensible hour, but half of them could not speak English.
Imposing a condition that the authorised vehicles should normally only use the premises between 7arn and 7pm on weekdays, Mr Jackson said that if in cases of emergency, vehicles had to use the premises outside those times, the company must notify him in writing within 24 hours.