Hauliers fight toll tags
2nd December 1993
Page 9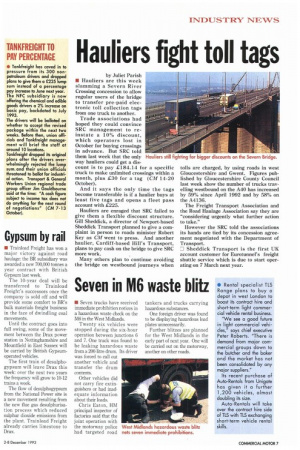 Page 9, 2nd December 1993 —
Hauliers fight toll tags
Close
by Juliet Parish • Hauliers are this week slamming a Severn River Crossing concession to allow regular users of the bridge to transfer pre-paid electronic toll collection tags from one truck to another.
Trade associations had hoped they could convince SRC management to reinstate a 10% discount, which operators lost in October for buying crossings in advance. But SRC told them last week that the only Hauliers still fig way hauliers could get a dis count is to pay £184.14 for a specific truck to make unlimited crossings within a month, plus £30 for a tag (CM 14-20 October).
And it says the only time the tags become transferable is if a haulier buys at least five tags and opens a fleet pass account with £225.
Hauliers are enraged that SRC failed to give them a flexible discount structure. Gill Sheddick, a director of Newport-based Sheddick Transport planned to give a complaint in person to roads minister Robert Key as CM went to press. And another haulier, Cardiff-based Hill's Transport, plans to pay cash on the bridge to give SRC more work.
Many others plan to continue avoiding the bridge on westbound journeys when tolls are charged, by using roads in west Gloucestershire and Gwent. Figures published by Gloucestershire County Council last week show the number of trucks travelling westbound on the A40 has increased by 59% since April 1992 and by 58% on the A4136.
The Freight Transport Association and the Road Haulage Association say they are "considering urgently what further action to take."
However the SRC told the associations its hands are tied by its concession agreement negotiated with the Department of Transport.
Sheddick Transport is the first UK account customer for Eurotunnel's freight shuttle service which is due to start operating on 7 March next year.