Costs soar in huge diesel price hike
2nd December 1993
Page 6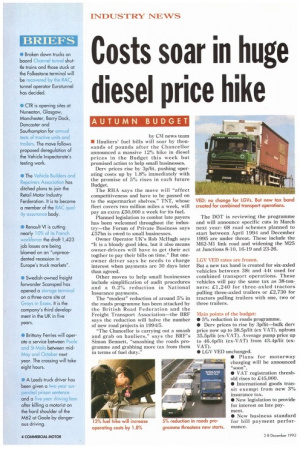 Page 6, 2nd December 1993 —
Costs soar in huge diesel price hike
Close
AUTUMN BUDGET
by CM news team • Hauliers' fuel bills will soar by thousands of pounds after the Chancellor announced a massive 12% hike in diesel prices in the Budget this week but promised action to help small businesses.
Dery prices rise by 3p/lit, pushing operating costs up by 1.8% immediately with the promise of 5% rises in each future Budget.
The RHA says the move will "affect competitiveness and have to be passed on to the supermarket shelves." TNT, whose fleet covers two million miles a week, will pay an extra £50,000 a week for its fuel.
Planned legislation to combat late payers has been welcomed throughout the industry—the Forum of Private Business says £57bn is owed to small businesses.
Owner Operator UK's Rob McHugh says "It is a bloody good idea, but it also means owner-drivers will have to get their act togther to pay their bills on time." But oneowner driver says he needs to charge interest when payments are 30 days later than agreed.
Other moves to help small businesses include simplification of audit procedures and a 0.2% reduction in National Insurance payments.
The "modest" reduction of around 5% in the roads programme has been attacked by the British Road Federation and the Freight Transport Association—the BRF says the reduction will halve the number of new road projects in 1994/5.
"The Chancellor is carrying out a smash and grab on hauliers," says the BRF's Simon Bennett, "smashing the roads programme and grabbing more tax from them in terms of fuel duty." The DOT is reviewing the programme and will announce specific cuts in March next year: 68 road schemes planned to start between April 1994 and December 1995 are under threat. These include the M62-M1 link road and widening the M25 at Junctions 8-10, 16-19 and 23-26.
LGV VED rates are frozen.
But a new tax band is created for six-axled vehicles between 38t and 44t used for combined transport operations. These vehicles will pay the same tax as 38-ton-, ners: £1,240 for three-axled tractors pulling three-axled trailers or £2,730 for tractors pulling trailers with one, two or three trailers.
Main points of the budget: • 5% reduction in roads programme.
• Dery prices to rise by 3p/lit—bulk dery price now up to 38.5p/lit (ex VAT), upfrom 35.5p/lit (ex-VAT). Average pump price up to 46.4p/lit (ex-VAT) from 43.4p/lit (exVAT).
• LGV VED unchanged.
• Plans for motorway charging will be announced "soon".
• VAT registration threshold rises to £45,000.
• International goods transit exempt from new 3% insurance tax.
• New legislation to provide for interest on late payment.
• New business standard for bill payment performance.