BRIEFS
2nd December 1993
Page 6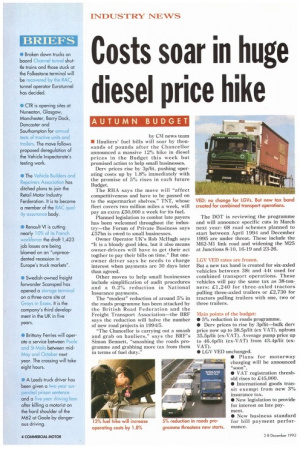 Page 6, 2nd December 1993 —
BRIEFS
Close
• Broken down trucks on board Channel tunne, shuttle trains and those stuck at the Folkestone terminal will be recovered by the P, tunnel operator Eurotunnel has decided.
CTR is opening sites at Nuneaton, Glasgow, Manchester, Barry Dock, Doncaster and Southampton for . The move follows proposed deregulation of the Vehicle Inspectorate's testing work.
The Vehicle Builders and !ors Association has ditched plans to join the Retail Motor Industry Ferderation. It is to become a member of the AC qual
ty ctsurc; body.
• Renault VI is cuffing nearly 10% of its French workforce: the draft 1,423 job losses are being blamed on an "unprecedented recession in Europe's truck markets".
Swedish-owned freight forwarder Scansped has opened a storage terminal on a three-acre site at 0 . It is the company's third development in the UK in five years.
Brittany Ferries will operate a service between and St Mc between midMay and October next year. The crossing will take eight hours.
A Leeds truck driver has been given a two year sus-d prison sentence and a 'lye veer drIving ken after killing a motorist on the hard shoulder of the M62 at Goole by dangerous driving.