And that's it. No office staff; no fancy depot. The
2nd December 1993
Page 41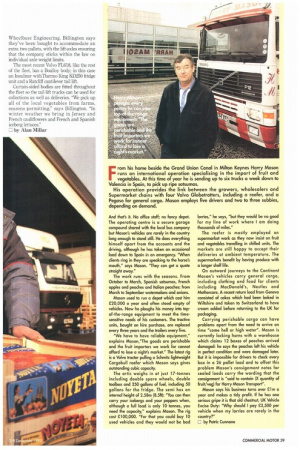 Page 41, 2nd December 1993 —
And that's it. No office staff; no fancy depot. The
Close
operating centre is a secure garage compound shared with the local bus company but Mason's vehicles are rarely in the country long enough to stand still. He does everything himself apart from the accounts and the driving, although he has taken an occasional load down to Spain in an emergency. "When clients ring in they are speaking to the horse's mouth," says Mason. "They can get a quote straight away."
The work runs with the seasons. From October to March, Spanish satsumas, French apples and peaches and Italian peaches: from March to September watermelons and onions.
Mason used to run a depot which cost him £20,000 a year and often stood empty of vehicles. Now he ploughs his money into topof-the-range equipment to meet the timesensitive needs of his customers. The tractive units, bought on hire purchase, ore replaced every three years and the trailers every Five.
"We have to have reliable equipment," explains Mason,"The goods are perishable and the fruit importers we work for cannot afford to lose a night's market." The latest rig is a Volvo tractor pulling a Schmitz lightweight Cargobull reefer which Mason says gives outstanding cubic capacity.
The artic weighs in at just 17-tonnes including double spare wheels, double toolbox and 250 gallons of fuel, including 50 gallons for the fridge. The semi has an internal height of 2.58m (8.511): "You can then carry your icebergs and your peppers when, although a full load is only 10 tonnes, you need the capacity" explains Mason. The rig cost £100,000. "For that you could buy 10 used vehicles and they would not be bad lorries," he says, "but they would be no good for my line of work where I am doing thousands of miles."
The reefer is mostly employed on supermarket work as they now insist on fruit and vegetables travelling in chilled units. The markets are still happy to accept their deliveries at ambient temperature. The supermarkets benefit by having produce with a longer shelf life.
On outward journeys to the Continent Mason's vehicles carry general cargo, including clothing and food for clients including MacDonald's, Nestles and Mothercare. A recent return load from Geneva consisted of cakes which had been baked in Wiltshire and taken to Switzerland to have cream added before returning to the UK for
packaging.
Carrying perishable cargo can have problems apart from the need to arrive on time "come hell or high water". Mason is currently locking horns with a warehouse which claims 12 boxes of peaches arrived damaged: he says the peaches left his vehicle in perfect condition and were damaged later. But it is impossible for drivers to check every box in a 26 pallet load and to offset this problem Mason's consignment notes for sealed loads carry the wording that the consignment is "said to contain (X quantity of fruit/veg) for Harry Mason Transport".
Mason says his business turns over El m year and makes a tidy profit. If he has one serious gripe it is that old chestnut, UK Vehicle Excise Duty: "Why should I pay 0,500 per vehicle when my lorries are rarely in the country?"
E by Patric Cunnane