I n 44 years John Sharrock (Preston) has grown to become
2nd December 1993
Page 40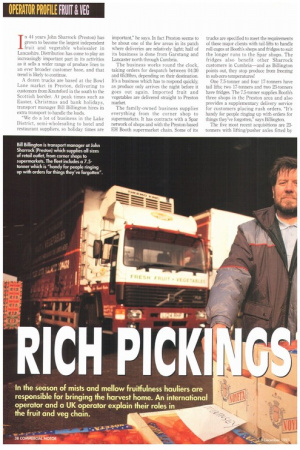 Page 41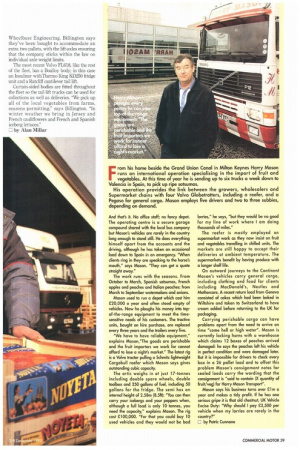 Page 40, 2nd December 1993 —
I n 44 years John Sharrock (Preston) has grown to become
Close
the largest independent fruit and vegetable wholesaler in Lancashire. Distribution has come to play an increasingly important part in its activities as it sells a wider range of produce lines to an ever broader customer base, and that trend is likely to continue.
A dozen trucks are based at the Bowl Lane market in Preston, delivering to customers from Knutsford in the south to the Scottish border. At peak times such as Easter, Christmas and bank holidays, transport manager Bill Billington hires in extra transport to handle the loads.
"We do a lot of business in the Lake District, semi-wholesaling to hotel and restaurant suppliers, so holiday times are important," he says. In fact Preston seems to be about one of the few areas in its patch where deliveries are relatively light; half of its business is done from Garstang and Lancaster north through Cumbria.
The business works round the clock, taking orders for despatch between 04:30 and 05:30hrs, depending on their destination. It's a business which has to respond quickly, as produce only arrives the night before it goes out again. Imported fruit and vegetables are delivered straight to Preston market.
The family-owned business supplies everything from the corner shop to supermarkets. It has contracts with a Spar network of shops and with the Preston-based EH Booth supermarket chain. Some of its trucks are specified to meet the requirements of these major clients with tail-lifts to handle roll cages at Booth's shops and fridges to suit the longer runs to the Spar shops. The fridges also benefit other Sharrock customers in Cumbria—and as Billington points out, they stop produce from freezing in sub-zero temperatures!
One 7.5-tonner and four 17-tonners have tail lifts; two 17-tonners and two 23-tonners have fridges. The 7.5-tonner supplies Booth's three shops in the Preston area and also provides a supplementary delivery service for customers placing rush orders. "It's handy for people ringing up with orders for things they've forgotten," says Billing-ton.
The five most recent acquisitions are 23tonners with lifting/pusher axles fitted by Wheelbase Engineering. Billington says they've been bought to accommodate an extra two pallets, with the lift-axles ensuring that the company sticks within the law on individual axle weight limits.
The most recent Volvo FL618, like the rest of the fleet, has a Boalloy body; in this case an Insuliner withThermo King KD250 fridge unit and a Ratcliff cantilever tail lift
Curtain-sided bodies are fitted throughout the fleet so the tail-lift trucks can be used for collections as well as deliveries. "We pick up all of the local vegetables from farms, seasons permitting," says Billing-ton. "In winter weather we bring in Jersey and French cauliflowers and French and Spanish iceberg lettuces."
ID by Alan Millar