Thro in Ifteline
2nd December 1993
Page 28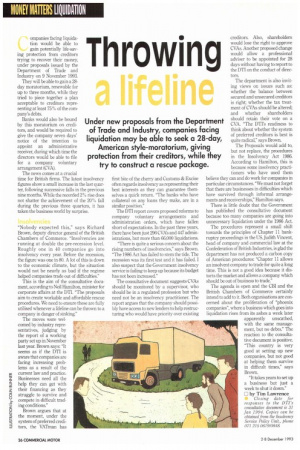 Page 28, 2nd December 1993 —
Thro in Ifteline
Close
Keywords :
Business
,
Bankruptcy
,
Insolvency Law
,
Finance
,
Law
,
Insolvency Practitioner
,
Insolvency
,
Liquidation
,
Administration
,
Receivership
,
Chapter 11, Title 11, United States Code
,
Unsecured Creditor
,
Business / Finance
Under new proposals from the Department of Trade and Industry, companies facing liquidation may be able to seek a 28-day, American style-moratorium, giving protection from their creditors, while they try to construct a rescue package.
ompanies facing liquida tion would be able to gain potentially life-saving protection from creditors trying to recover their money, under proposals issued by the Department of Trade and Industry on 9 November 1993.
They will be able to gain a 28day moratorium, renewable for up to three months, while they tried to piece together a plan acceptable to creditors representing at least 75% of the company's debts.
Banks would also be bound by this moratorium on creditors, and would be required to give the company seven days' notice of the intention to appoint an administrative receiver, during which time the directors would be able to file for a company voluntary arrangement (CVA).
The news comes at a crucial time for British firms. The latest insolvency figures show a small increase in the last quarter, following successive falls in the previous nine months. While the recorded 2% rise does not shatter the achievement of the 20% fall during the previous three quarters, it has taken the business world by surprise.
"Nobody expected this," says Richard Brown, deputy director general of the British Chambers of Commerce. "Insolvencies are running at double the pre-recession level. Roughly one in 40 companies go into insolvency every year. Before the recession, the figure was one in 80. A lot of this is down to the economic climate, but the situation would not be nearly as bad if the regime helped companies trade out of difficulties."
This is the aim of the consultative document, according to Neil Hamilton, minister for corporate affairs at the DTI. The proposals aim to create workable and affordable rescue procedures. We need to ensure these are fully utilised whenever a lifeline can be thrown to a company in danger of sinking."
The moves were welcomed by industry representatives, judging by the report of a working party set up in November last year. Brown says; "It seems as if the DTI is aware that companies are facing increasing problems as a result of the current law and practice. Businesses need all the help they can get with their financing as they struggle to survive and compete in difficult trading conditions."
Brown argues that at the moment, under the system of preferred creditors, the VATman has first bite of the cherry and Customs & Excise often regards insolvency as representing their best interests as they can guarantee themselves a quick return. "The banks who have collateral on any loans they make, are in a similar position.'
The DTI report covers proposed reforms to company voluntary arrangements and administration orders, which have fallen short of expectations. In the past three years, there have been just 296 CVA's and 447 administrations, but more than 66,000 liquidations.
"There is quite a serious concern about the rising numbers of insolvencies," says Brown. "The 1986 Act has failed to stem the tide. The recession was its first test and it has failed. I also suspect that the Government insolvency service is failing to keep up because its budget has not been increased."
The consultative document suggests CVAs should be monitored by a supervisor, who should be in a regulated profession but who need not be an insolvency practitioner. The report argues that the company should possibly have access to new lenders to help restructuring who would have priority over existing creditors Also, shareholders would lose the right to approve CVAs. Another proposed change would allow a professional adviser to be appointed for 28 days without having to report to the DTI on the conduct of directors.
The department is also inviting views on issues such as: whether the balance between secured and unsecured creditors is right; whether the tax treatment of CVAs should be altered; and whether shareholders should retain their vote on a CVA. "The DTI's readiness to think about whether the system of preferred creditors is best is quite radical,' says Brown.
The Proposals would add to, but not replace, the procedures in the Insolvency Act 1986. According to Hamilton, this is because some insolvency practitioners who have used them believe they can and do work for companies in particular circumstances. "We must not forget that there are businesses in difficulties which have survived through informal arrangements and receiverships," Hamilton says.
There is little doubt that the Government has published the consultative document because too many companies are going into unnecessary liquidation under the 1986 Act.
The procedures represent a small shift towards the principles of Chapter 11 bankruptcy proceedings in the US. Judith Vincent, head of company and commercial law at the Confederation of British Industries, is glad the department has not produced a carbon copy of American procedures: "Chapter 11 allows an insolvent company to trade for quite a long time. This is not a good idea because it distorts the market and allows a company which should be out of business to trade."
The agenda is open and the CBI and the British Chambers of Commerce certainly intend to add to it. Both organisations are concerned about the proliferation of "phoenix companies", where a business which goes into liquidation rises from its ashes a week later apparently unscathed, with the same management, but no debts." The reaction to the consultative document is positive. "This country is very good at setting up new companies, but not good at helping them survive in difficult times," says Brown.
"It takes years to set up a business but just a week to shut it down."
El by Tim Lawrence
Closing date for responses to the DTI's consultative document is 31 Jan 1994. Copies can be obtained from the Insolvency Service Policy Unit., phone 071 216 0619/0848.