No endorsement
2nd December 1993
Page 24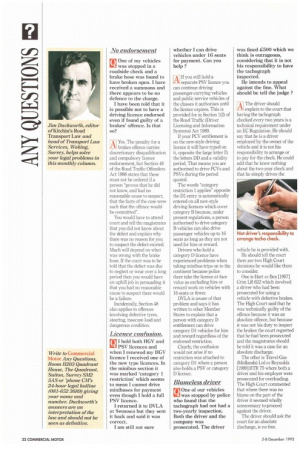 Page 25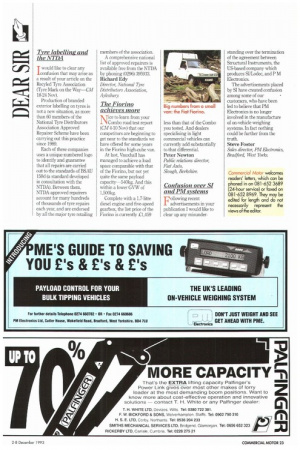 Page 24, 2nd December 1993 —
No endorsement
Close
One of my vehicles was stopped in a roadside check and a brake hose was found to have broken open. I have received a summons and there appears to be no defence to the charge.
I have been told that it is possible not to have a driving licence endorsed even if found guilty of a brakes' offence. Is that so?
,A Yes. The penalty for a 1brakes offence carries discretionary disqualification and compulsory licence endorsement, but Section 48 of the Road Traffic Offenders Act 1988 states that these must not be ordered if a person "proves that he did not know, and had no reasonable muse to suspect, that the facts of the case were such that the offence would be committed".
You would have to attend court and tell the magistrates that you did not know about the defect and explain why there was no reason for you to suspect the defect existed. Much will depend on what was wrong with the brake hose. If the court was to be told that the defect was due to neglect or wear over a long period then you would have an uphill job in persuading it that you had no reasonable cause to suspect there would be a failure.
Incidentally, Section 48 also applies to offences involving defective tyres, steering, insecure load and dangerous condition.
Licence confusion.
I hold both HGV and PSV licences and when I renewed my HGV licence I received one of the new type licences. In the minibus section it was marked 'category 1 restriction' which seems to mean I cannot drive minibuses for payment even though Ihold a full PSV licence.
I returned it to DVLA at Swansea but they sent it back and said it was correct.
am still not sure whether I can drive vehicles under 16 seats for payment. Can you help ?
A If you still hold a 1LN separate PSV licence you can continue driving passenger-carrying vehicles and public service vehicles of the classes it authorises until the licence expires. This is provided for in Section 1(2) of the Road Traffic (Driver Licensing and Information Systems) Act 1989.
If your PCV entitlement is on the new-style driving licence it will have typed on it, opposite the large letter D, the letters DD and a validity period. That means you are authorised to drive PCVs and PSVs during the period quoted.
The words "category restriction 1 applies" opposite the Di entry is automatically entered on all new-style driving licences which cover category B because, under present regulations, a person authorised to drive category
B vehicles can also drive passenger vehicles up to 16 seats as long as they are not used for hire or reward.
Drivers who hold a category D licence have experienced problems when taking minibus trips on to the continent because police there take the licence at face value as excluding hire or reward work on vehicles with 16 seats or fewer.
DVLA is aware of that problem and says it has written to other Member States to explain that a person with category D entitlement can drive category DI vehicles for hire and reward regardless of the endorsed restriction.
Clearly, the confusion would not arise if no restriction was attached to category D1 where a person also holds a PSV or category D licence.
Blameless driver
One of our vehicles was stopped by police who found that the tachograph had not had a two-yearly inspection. Both the driver and the company was prosecuted. The driver was fined £500 which we think is outrageous, considering that it is not his responsibility to have the tachograph inspected.
He intends to appeal against the fine. What should be tell the judge ?
The driver should _ explain to the court that having the tachograph checked every two years is a technical requirement under an EC Regulation. He should say that he is a driver employed by the owner of the vehicle and it is not his responsibility to arrange or to pay for the check. He could add that he knew nothing about the two-year check and that he simply drives the vehicle he is provided with.
He should tell the court there are two High Court decisions he would like them to consider.
One is Hart vs Hex [1957] Crim LR 622 which involved a driver who had been prosecuted for using a vehicle with defective brakes. The High Court said that he was technically guilty of the offence because it was an absolute offence, but because it was not his duty to inspect the brakes the court regretted that he had been prosecuted and the magistrates should be told it was a case for an absolute discharge.
The other is Travel-Gas (Midlands) Ltd vs Reynolds [1989] RTR. 75 where both a driver and his employer were prosecuted for overloading. The High Court commented that where there was no blame on the part of the driver it seemed wholly unnecessary to proceed against the driver.
The driver should ask the court for an absolute discharge, ie no fine.
Tyre labelling and the NTDA
T would like to clear any lconfusion that may arise as a result of your article on the Recyled Tyre Association (Tyre Mark on the Way—CM 18-24 Nov).
Production of branded exterior labelling on tyres is not a new situation, as more than 60 members of the National Tyre Distributors Association Approved Repairer Scheme have been carrying out this practice since 1989.
Each of these companies uses a unique numbered logo to identify and guarantee that all repairs are carried out to the standards of BSAU 159c1 (a standard developed in consultation with the NTDA). Between them, NTDA-approved repairers account for many hundreds of thousands of tyre repairs each year, and are endorsed by all the major tyre retailing members of the association.
A comprehensive national list of approved repairers is available free from the NTDA by phoning (0296) 395933. Richard Edy Director, National Tyre Distributors Association, Aylesbury
The Fiorino achieves more
\ ice to learn from your
Combo road test report (CM 4-10 Nov) that our competitors are beginning to get near to the standards we have offered for some years in the Fiorillo high-cube van.
At last, Vauxhall has managed to achieve a load space comparable with that of the Fiorino, but not yet quite the same payload capacity-540kg. And this within a lower GVW of 1,500kg.
Complete with a 1.7-litre diesel engine and five-speed gearbox, the list price of the Fiorino is currently £1,459 less than that of the Combo you tested. And dealers specialising in light commercial vehicles can currently add substantially to that differential.
Peter Newton
Public relations director, Fiat Auto, Slough, Berkshire.
Confusion over SI and PM systems
Following recent advertisements in your publication I would like to clear up any misunder
standing over the termination of the agreement between Structural Instruments, the US-based company which produces SI/Lodec, and PM Electronics
The advertisements placed by SI have created confusion
among some of our • customers, who have been led to believe that PM Electronics is no longer involved in the manufacture of on-vehicle weighing systems. In fact nothing could be further from the truth.
Steve Foster Sales director, PM Electronics, Bradford, West Yorks.
Commercial Motor welcomes readers' letters, which can be phoned in on 081-652 3689 (24-hour service) or faxed on 081-652 8969, They may be edited for length and do not necessarily represent the views of the editor.