Sorry is often the hardest word to say. We only
2nd December 1993
Page 18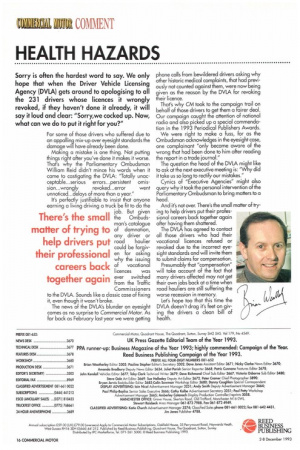 Page 19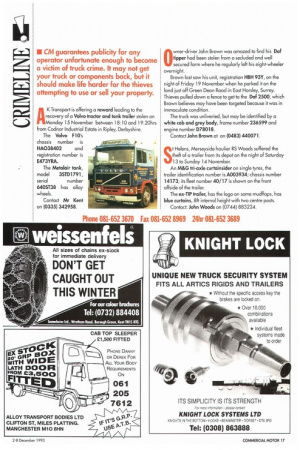 Page 18, 2nd December 1993 —
Sorry is often the hardest word to say. We only
Close
hope that when the Driver Vehicle Licensing Agency (DVLA) gets around to apologising to all the 231 drivers whose licences it wrongly revoked, if they haven't done it already, it will say it loud and clear: "Sorry,we cocked up. Now, what can we do to put it right for you?"
For some of those drivers who suffered due to an appalling mix-up over eyesight standards the damage will have already been done. Making a mistake is one thing. Not putting things right after you've done it makes it worse. That's why the Parliamentary Ombudsman William Reid didn't mince his words when it came to castigating the DVLA: "Totally unac ceptable...serious errors.., persistent omis sion...wrongly revoked,. error went unnoticed., delays of more than a year." It's perfectly justifiable to insist that anyone earning a living driving a truck be fit to do the job. But given the Ombudsman's catalogue of damnation, any driver or road haulier could be forgiven for asking why the issuing of vocational licences was ever switched from the Traffic Commissioners to the DVLA. Sounds like a classic case of fixing it, even though it wasn't broke. The news of the DVLA's blunder on eyesight comes as no surprise to Commercial Motor. As far back as February last year we were getting phone calls From bewildered drivers asking why other historic medical complaints, that had previously not counted against them, were now being given as the reason by the DVLA for revoking their licence.
That's why CM took to the campaign trail on behalf of those drivers to get them a fairer deal. Our campaign caught the attention of national radio and also picked up a special commendation in the 1993 Periodical Publishers Awards.
We were right to make a fuss, for as the Ombudsman acknowledges in the eyesight case, one complainant "only became aware of the wrong that had been done to him after reading the report in a trade journal." The question the head of the DVLA might like to ask at the next executive meeting is: "Why did it take us so long to rectify our mistakes." Cynics of "Executive Agencies" might also query why it took the personal intervention of the Parliamentary Ombudsman to bring matters to a head.
And it's not over. There's the small matter of trying to help drivers put their professional careers back together again after having them shattered. The DVLA has agreed to contact all those drivers who had their vocational licences refused or revoked due to the incorrect eyesight standards and will invite them to submit claims for compensation. Presumably that "compensation" will take account of the fact that many drivers affected may not get their own jobs back at a time when road hauliers are still suffering the worse recession in memory. Let's hope too that this time the DVLA doesn't drag it's feet on giving the drivers a clean bill of health. AK Transport is offering a reward leading to the recovery of a Volvo tractor and tank trailer stolen on Monday 15 November between 18:10 and 19.20hrs From Codnor Industrial Estate in Ripley, Derbyshire.
The Volvo FlO's chassis number is HA038402 and registration number is E473YRA.
The Metalair tank, model 35TD1791, serial number 6405138 has alloy wheels.
Contact Mr Kent on (0335) 342958.
Owner-driver John Brown was amazed to find his Daf tipper had been stolen from a secluded and well secured farm where he regularly left his eight-wheeler overnight.
Brown last saw his unit, registration HBH 93Y, on the night of Friday 19 November when he parked it on the land just off Green Dean Road in East Horsley, Surrey. Thieves pulled down a fence to get to the Daf 2500, which Brown believes may have been targeted because it was in immaculate condition.
The truck was unliveried, but may be identified by a white cab and grey body, frame number 236599 and engine number D78018.
Contact John Brown at on (0483) 440071.
t Helens, Merseyside haulier R5 Woods suffered the theft of a trailer from its depot on the night of Saturday 13 to Sunday 14 November.
An M&G tri-axle curtainsider on single tyres, the trailer identification number is A003934; chassis number 14173; its fleet number 40/17 is shown on the front offside of the trailer.
The ex-TIP trailer, has the logo on some mudf laps, has blue curtains, 8ft internal height with two centre posts. Contact: John Woods on (0744) 883224.