Road narrows ahead?
2nd December 1993
Page 10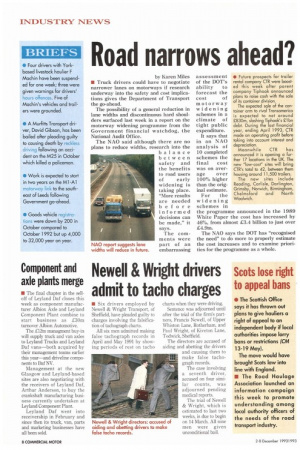 Page 10, 2nd December 1993 —
Road narrows ahead?
Close
by Karen Miles III Truck drivers could have to negotiate narrower lanes on motorways if research underway into the safety and cost implications gives the Department of Transport the go-ahead.
The possibility of a general reduction in lane widths and discontinuous hard shoulders surfaced last week in a report on the motorway widening programme from the Government financial watchdog, the National Audit Office.
The NAO said although there are no plans to reduce widths, research into the balance between safety and the benefits to road users of early widening is taking place. "More results are needed before informed decisions can be made," it says.
The comments were part of an embarrassing assessment of the DOT's ability to forecast the cost of motorway widening schemes in a climate of tight public expenditure.
It says that in an NAO analysis of 10 completed schemes the final cost was on average over 100% higher than the original estimate.
For the widening schemes in the programme announced in the 1989 White Paper the cost has increased by 46%, from almost £3.4 billion to just over £4.9m.
The NAO says the DOT has "recognised the need" to do more to properly estimate the cost increases and to examine priorities for the programme as a whole.