"Cubist" Characteristics in a Laundry Van
2nd December 1938
Page 57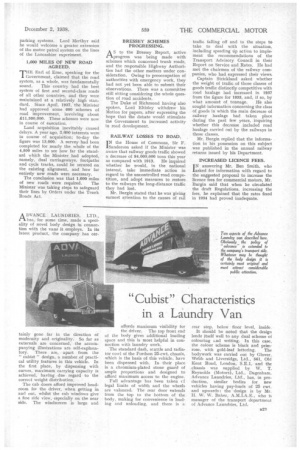 Page 57, 2nd December 1938 —
"Cubist" Characteristics in a Laundry Van
Close
thinly gone far in the direction of modernity and originality. So far as externals are concerned, the accompanying illustrations are self-explanatory. There are, apart from the " cubist " design, a number of practical utility features in this vehicle. In the first place, by dispensing with curves, maximum carrying capacity is achieved, having due regard to the correct weight distribution.
The cab doors afford improved headroom for the driver, when getting in and out, whilst the cab windows give a fine side view, especially on the near side. The windscreen is large and affords maximum visibility for the driver. The top front end of the body gives additional loading space and this is most helpful in connection with laundry work.
The standard dash, scuttle and radiator cowl of the Fordson 25-cwt. chassis, which is the basis of this vehicle, have been dispensed with In their place is a chromium-plated stone guard of ample proportions and designed to afford maximum access to the engine.
Full advantage has been taken cf legal limits of width and the wheels are valanced. The rear door extends from the top to the bottom of the body, making for convenience in loading and unloading, and there is a rear step, below floor level, inside.
It should be noted that the design lends itself well to any dual scheme of colouring cud writing. In this case, the colour scheme is black and prim rose, with gold-leaf lettering. The bodywork was carried out by Glover, Webb and Liversidge, Ltd., 561. Old Kent Road, London, S.E.1, and the chassis was supplied by W. T. Reynolds (Motors), Ltd., Dagenham. Advance Laundries, Ltd., has, in production, similar bodies for new vehicles having pay-loads of 25 cwt. and upwards: the design is by Mr. H. W. W. Baker, A.M.I.A.E., who is manager of the transport department of Advance Laundries, Ltd.