What the Associations
2nd December 1938
Page 54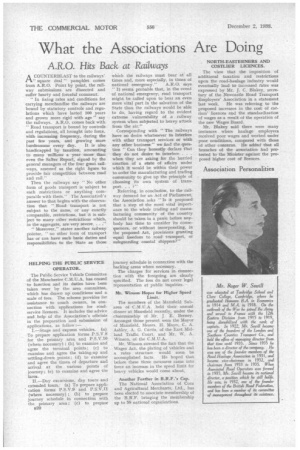 Page 54, 2nd December 1938 —
What the Associations
Close
A.R.Q. Hits Back at Railways ACOUNTERBLAST to the railways' " square deal " pamphlet comes from &WO. Point by point, the railway submissions are dissected and suffer hearty and forceful comment.
'In fixing rates and conditions for carrying merchandise the railways are bound by statutory controls and regulations which have lasted 100 years and grown more rigid with age' say the railways. A.R.O. comes back with "Road transport is bound by controls and regulations, all brought into force, with increasing frequency, during the past few years, and growing more burdensome every day. It is also handicapped by taxation, amounting to many millions a year more than even the Salter Report, signed by the general managers of the four great railways, assessed as the right figure to provide fair competition between road and rail."
Then the railways say " No other form of goods transport is subject to such restrictions or anything comparable with them," The Association's answer to that begins with the observation that "Road transport is not subject to the same, or any exactly comparable, restrictions, but it is subject to many other restrictions which, in the aggregate, are very severe. . . ."
" Moreover," states another railway pointer, " no other form of transport has or can have such basic duties and responsibilities to the State as those which the railways must bear at all times and, more especially, in times of national emergency." A.R.O. says " It seems probable that, in the event of national emergency, road transport might be called upon to bear an even more vital part in the salvation of the State than the railways would be able to do, having regard to the evident extreme vulnerability of a railway system when subjected to heavy attack from the air."
Corresponding with " The railways have no desire whatsoever to interfere with other transport services or with any other business" we find the question " Can they honestly declare that they do not desire to interfere . . . when they are asking for the hurried creation of a state of affairs under which it would be within their power to order the manufacturing and trading community to give up the principle of choosing its own system of transport. . ?"
Referring, in conclusion, tothe railway demand for an Act of Parliament, the Association asks " Is it proposed that a step of the most vital importance tO the whole trading and manufacturing community of the country should be taken in a panic before anybody has time to consider its consequences, or without incorporating, in the proposed Act, provisions granting equal freedom to ,road transport, or safeguarding coastal shippers?"