Austin's Bid in the Goods-transport Field
2nd December 1938
Page 44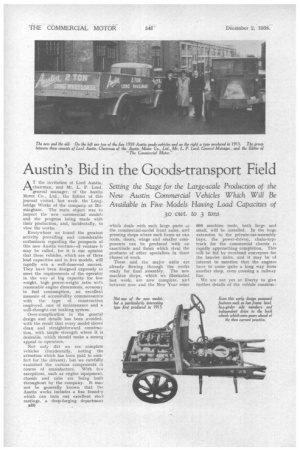 Page 44, 2nd December 1938 —
Austin's Bid in the Goods-transport Field
Close
AT the invitation of Lord Austin, chairman, and Mr. L. P. Lord, general manager, of the Austin Motor Co., Ltd., the Editor of this journal visited, last week, the Longbridge Works of the company at Birmingham. The main object was to inspect the new commercial models and the progress being made with their production, and, incidentally, to view the works.
Everywhere we found the greatest activity prevailing and considerable enthusiasm regarding the prospects of this new Austin venture—if venture it may be called, for it is our opinion that these vehicles, which are of three load capacities and in five models, will rapidly win a well-deserved success. They have been designed expressly to meet the requirements of the operator in the way of big capacity for low weight, high power-weight ratio with reasonable engine dimensions, economy in fuel consumption, an excellent measure of accessibility commensurate with the type of construction employed, ease of maintenance and a well-thought-out braking system.
Over-complication in the general design and details has been avoided, with the result that every model shows clean and straightforward construction, with ample strength where it is desirable, which should make a strona appeal to operators.
Not only did we see complete vehicles (incidentally, noting the attention which has been paid to comfort for the drivers), but we carefully examined the various components in course of manufacture. With [es exceptions, such as engine equipment, chassis and cabs are being built throughout by the company. It may not be generally known that the Austin works includes a fine foundry which can turn out excellent steel castings, a drop-forging department B10 which deals with such large parts as the commercial-model front axles, and pressing shops where such items as van roofs, doors, wings and smaller components can be produced with an exactitude and finish which rival the products of other specialists in these classes of work.
These and the major units are already flowing through the works ready for final assembly. The new machine shops, which we illustrated last week, are now complete, and between now and the New Year some 600 machine tools, both large and small, will be installed. In the huge extension to the private-car-assembly bays, the power-driven, chain-tyv_i track for the commercial chassis is rapidly approaching completion. This will be fed by overhead conveyors for the heavier units, and it may he of interest to mention that the engines have to come quite a long way from another shop, even crossing a railway
We are not yet at liberty to give further details of the vehicle construe•